The Diamond Age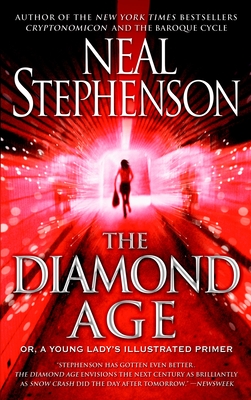 The Diamond Age
Or, a Young Lady's Illustrated Primer
Spectra Books, Paperback, 9780553380965, 512pp.
Publication Date: May 2, 2000
* Individual store prices may vary.
Shop Local
Enter your zip code below to find indies closest to you.
Description
In Snow Crash, Neal Stephenson took science fiction to dazzling new levels. Now, in The Diamond Age, he delivers another stunning tale. Set in twenty-first century Shanghai, it is the story of what happens when a state-of-the-art interactive device falls in the hands of a street urchin named Nell. Her life and the entire future of humanity is about to be decoded and reprogrammed
About the Author
Neal Stephenson is the author of the bestselling Reamde; Anathem; the three-volume historical epic The Baroque Cycle (Quicksilver, The Confusion, and The System of the World); Cryptonomicon; The Diamond Age; Snow Crash, which was named one of Time magazine s top one hundred all-time best English-language novels; and Zodiac. He lives in Seattle, Washington.
Praise For The Diamond Age…
"[Stephenson] has gotten even better. The Diamond Age Envisions the next century as brilliantly as snow crash did the day after tomorrow."—Newsweek

"[Stephenson is] the hottest science fiction writer in America...Snow Crash is without question the biggest SF novel of the 1990s. Neal's SF novel, The Diamond Age, promises more of the same. Together, they represent a new era in science fiction. People who plow through these mind-bogglers will walk around slack-jawed for days and reemerge with a radically redefined sense of reality."—Details

"Neal Stephenson is the Quentin Tarantino of postcyberpunk science fiction....Having figured out how to entertain the hell out of a mass audience, Stephenson has likewise upped the form's ante with rambunctious glee."—Village Voice

"Snow Crash drew its manic energy from the cyberpunkish conceit that anything is possible in virtual reality; in The Diamond Age the wonders of cyberspace pale before the even more dazzling powers of nanotechnology."
—New York Times Book Review

"Diamond Age establishes Neal Stephenson as a powerful voice for the cyber age....At once whimsical, satirical, and cautionary."—USA Today

"Stephenson's world-building skills are extraordinary.... The Diamond Age should cement Stephenson's reputation as one of the brightest and wittiest young authors of American science fiction."—San Diego Union-Tribune