Ancient Herbs, Modern Medicine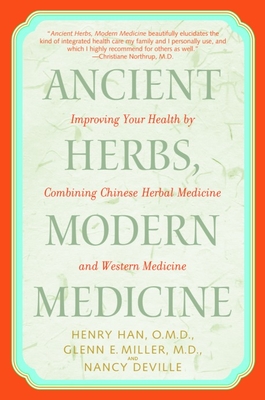 Ancient Herbs, Modern Medicine
Improving Your Health by Combining Chinese Herbal Medicine and Western Medicine
Bantam, Paperback, 9780553381184, 496pp.
Publication Date: December 31, 2002
* Individual store prices may vary.
Shop Local
Enter your zip code below to find indies closest to you.
Description
The best of Eastern and Western medicine in an integrative healing system for the mind, body, and spirit.
Now, for the first time, a Western physician and a doctor of Oriental medicine combine the unparalleled technological advances of the West with the unmatched wisdom and healing touch Chinese herbal medicine provides for many diseases and conditions that elude modern medicine. Ancient Herbs, Modern Medicine demonstrates the many important, highly effective ways Chinese medicine and Western medicine can complement each other in treating everything from allergies and insomnia to mental illness and cancer. This accessible, comprehensive guide offers many informative and enlightening case studies and up-to-the-minute information on:
How integrative medicine combines the best of Western pharmacology and Eastern herbology
How integrative medicine helps fight the diseases and illnesses of our time, including allergies, asthma, and chronic fatigue syndrome, and eases and even reverses symptoms of arthritis, diabetes, depression, osteoporosis, AIDS, heart disease, and cancer--often without side effects
How Chinese medicine can help you recognize signs before an illness
becomes a crisis
The importance of Western techniques in diagnosing serious diseases
Why Chinese medicine offers the most effective treatment for many chronic/recurrent illnesses
Restoring essential balance to the Five Energetic Systems--the Heart, Lung, Spleen, Liver, and Kidney Energies
The Eight Strategies of Herbal Therapy--how herbs work in your body
Plus illuminating discussions of the basic principles of Chinese medicine, as well as food remedy recipes, diagrams, glossaries of medical terms and herbs, resource listings, and much more to help you tailor an integrative health regimen that is right for you.
About the Author


Glenn Little Owl Miller was born in the Adirondack mountains near the Akwasasne and St. Regis Mohawk Reservations. He grew up learning traditional skills from various elders. He started powwowing at a very young age and has powwowed throughout the eastern United States for more than 30 years. He was honored with a membership in the Indian Arts and Crafts Association (IACA) in March 2004. His other titles include Wordsongs and soon to be published Crossroads.

Nancy Deville is a real-food advocate, bestselling health book writer, and the author of the expos Death by Supermarket and the novel Karma, a psychological thriller about sex trafficking. She lives in Los Angeles.
Praise For Ancient Herbs, Modern Medicine…
"A valuable alternative perspective on health and illness."
--Ted J. Kaptchuk, O.M.D., author of The Web That Has No Weaver: Understanding Chinese Medicine

"I have personally benefited from Chinese herbal medicine under the care of Dr. Henry Han. This book shows how crucial integrative medicine can be in treating a whole host of illnesses and in getting healthy and staying well."
--Jack Canfield, co-author of the Chicken Soup for the Soul series