American-Made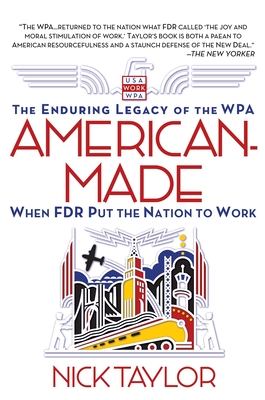 American-Made
The Enduring Legacy of the WPA: When FDR Put the Nation to Work
Bantam, Paperback, 9780553381320, 640pp.
Publication Date: February 24, 2009
* Individual store prices may vary.
Buy at Local Store
Enter your zip code below to purchase from an indie close to you.
or
Buy Here
Description
Seventy-five years after Franklin D. Roosevelt's New Deal, here for the first time is the remarkable story of one of its enduring cornerstones, the Works Progress Administration (WPA): its passionate believers, its furious critics, and its amazing accomplishments.

The WPA is American history that could not be more current, from providing economic stimulus to renewing a broken infrastructure. Introduced in 1935 at the height of the Great Depression, when unemployment and desperation ruled the land, this controversial nationwide jobs program would forever change the physical landscape and social policies of the United States. The WPA lasted eight years, spent $11 billion, employed 8½ million men and women, and gave the country not only a renewed spirit but a fresh face. Now this fascinating and informative book chronicles the WPA from its tumultuous beginnings to its lasting presence, and gives us cues for future action.


About the Author
Nick Taylor is a director of Taylor-Baines and Associates in Christchurch, New Zealand. He specialises in social assessment relating to natural resource management, including tourism development. He has been involved in the development of techniques for social assessment and conducts training courses in social assessment internationally.
Praise For American-Made…
"A must-read for history buffs and government wonks.... Taylor is at his best in describing the different projects and the lives of the people who worked on them. "—USA Today

"Brisk…. Taylor's American-Made is bigger than its title suggests; he provides a succinct survey of the Great Depression and particularly its consequences for workers…. he interweaves personal stories with explanations of policy."—Washington Post Book World

"Vividly rendered—a near-definitive account of one of the most massive government interventions into domestic affairs on American history…. The book is filled with plucky, fast-talking characters who by dint of charm and grit pulled themselves up by their bootstraps to participate."—Kirkus Reviews, starred review

"Eloquent and balanced…. A splendid appreciation of the WPA."—Publishers Weekly, starred review

"A paean to the WPA ... balanced and engaging."—Boston Globe

"An immensely detailed book telling the epic story of an equally immense agency, American-Made does an incomparable job of chronicling an important chapter in American history, one which many of us only know from the classroom and some of us know all too well."—New Hampshire Business Review

"A quick read … engagingly written…. There is something here for everyone to learn."—San Francisco Chronicle

"Well-written and helpfully structured.... Taylor intersperses individual stories to give body to stark statisticsan admiring, as well as admirable, history of FDR's main job-creation program."—Chicago Sun-Times

"A lively 'people's history' of the WPA."—Pittsburgh Post-Gazette

"Vastly informative, popular history at its finest…. A straightforward, relentlessly chronological, clearly written account."—Dallas Morning News

"Chock-full of facts.... Taylor captures the drama and idealism of the program's early years."—Time Out New York

"[Taylor] has produced what is likely the most complete account yet of the much-written-about agency, just in time for the 75th anniversary of the New Deal."—Milwaukee Express

"A lively and uplifting look at hard times—and a government program that worked."—Arizona Republic

"American-Made might be one of the most empathetic stories ever told…. It also is among the greatest."—Miami Sun Post

"Pertinent and timely…. Filled with both insight and wisdom. It is highly readable, absolutely terrific and highly recommended."—Tucson Citizen


"Brilliant. American-Made…is the story of how American energy, administration, and improvisation coalesced in one of the country's finest hours." —California Literary Review

"The WPA…returned to the nation what FDR called 'the joy and moral stimulation of work.' Taylor's book is both a paean to American resourcefulness and a staunch defense of the New Deal." —New Yorker