Negotiation Genius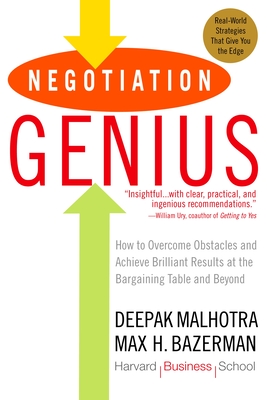 Negotiation Genius
How to Overcome Obstacles and Achieve Brilliant Results at the Bargaining Table and Beyond
Bantam, Paperback, 9780553384116, 343pp.
Publication Date: August 26, 2008
* Individual store prices may vary.
Buy at Local Store
Enter your zip code below to purchase from an indie close to you.
or
Buy Here
Description
From two leaders in executive education at Harvard Business School, here are the mental habits and proven strategies you need to achieve outstanding results in any negotiation.
Whether you ve seen it all or are just starting out, Negotiation Genius will dramatically improve your negotiating skills and confidence. Drawing on decades of behavioral research plus the experience of thousands of business clients, the authors take the mystery out of preparing for and executing negotiations whether they involve multimillion-dollar deals or improving your next salary offer.
What sets negotiation geniuses apart? They are the men and women who know how to:
Identify negotiation opportunities where others see no room for discussion
Discover the truth even when the other side wants to conceal it
Negotiate successfully from a position of weakness
Defuse threats, ultimatums, lies, and other hardball tactics
Overcome resistance and sell proposals using proven influence tactics
Negotiate ethically and create trusting relationships along with great deals
Recognize when the best move is to walk away
And much, much more
This book gets down and dirty. It gives you detailed strategies including talking points that work in the real world even when the other side is hostile, unethical, or more powerful. When you finish it, you will already have an action plan for your next negotiation. You will know what to do and why. You will also begin building your own reputation as a negotiation genius.
About the Author
With more than 30 years of experience in metallurgical and mining auditing, Gaudin Award recipient Deepak Malhotra is eminently qualified to write this first book on plant auditing. Since leaving AMAX in 1990, he has been president of Resource Development, Inc., a mining and metallurgy consulting and testing firm. He has served in several SME leadership positions, including chairing several international symposia.

Max Bazerman is the codirector of the Center for Public Leadership at the Harvard Kennedy School, the Straus Professor at the Harvard Business School, and the author of numerous books, including "Negotiation Genius "with Deepak Malhotra, "Blind Spots" with Ann E. Tenbrunsel, and "Judgment in Managerial Decision Making" with Don A. Moore. He has taught, advised companies, and consulted to governments in thirty countries.He is on numerous editorial boards.He received an honorary doctorate from the University of London, the Life Achievement Award from the Aspen Institute s Business and Society Program, and the Distinguished Educator Award from the Academy of Management, among many other awards.
Praise For Negotiation Genius…
An absolutely brilliant negotiation framework and tool kit of negotiation strategies, compellingly illustrated from extensive real and complex situations. It's the most comprehensive, wise, practical book on the subject I've ever seen."—Stephen R. Covey, author of The 7 Habits of Highly Effective Peopleand The 8th Habit: From Effectiveness to Greatness

"Few skills in life are as valuable as negotiating—and we can all become better at it. Professors Malhotra and Bazerman show us how, combining insightful analysis with clear, practical, and ingenious recommendations."—William Ury, coauthor of Getting to Yes and author of The Power of a Positive No

"Shortly after I sat down with Negotiation Genius, I reached for pen and pad and began to make notes. Thirty-five years in the space with hundreds of major negotiations, and this work still has something to teach me. It's the rare book that I would recommend to people at any experience level. With its engaging blend of real-world stories, intelligent tools, and emphasis on ethics and integrity, it is must reading for all who wish to excel." —Brian McGrath, Global Vice President, Chief Procurement Officer, Johnson & Johnson Consumer Companies

"Malhotra and Bazerman are offering a heck of a deal: for a handful of dollars, you can buy a book that invites you into a classroom conversation at the Harvard Business School—an experience that would normally cost fistfuls. This is a classic win-win bargain. No wonder they write so well about 'negotiation genius.'"—David Gergen, former U.S. presidential adviser; Director, Center for Public Leadership, John F. Kennedy School of Government

"Invaluable. Whether in business, politics, or the nonprofit sector, leaders must rely on the power to persuade, and Malhotra and Bazerman unlock the secrets of how to do so strategically, ethically, and successfully."—Bill Shore, Founder and Executive Director, Share Our Strength

"Whether your passion is sports, politics, or business, negotiations are an integral part of your world. Negotiation Genius offers an insightful and entertaining perspective on the negotiation process, plus—even more important–highly effective and relevant advice for conducting negotiations day-to-day."—Andy Wasynczuk, former Chief Operating Officer, three-time Super Bowl champion New England Patriots

"For both the novice and the master, Negotiation Genius is the single, most essential source for the basic understanding of this increasingly important skill set." —Warren Bennis, Distinguished Professor of Management, University of Southern California; coauthor of Judgment: How Winning Leaders Make Great Calls

"If you'll spend 26 bucks and a night or two of reading time, [Malhotra and Bazerman] show you how to dramatically upgrade your negotiating skills. Packed with case studies, their book shows how to spot opportunities, discover hidden information, identify leverage and successfully confront an adversary's dirty tricks."—Newsweek