Miscarriage, Medicine & Miracles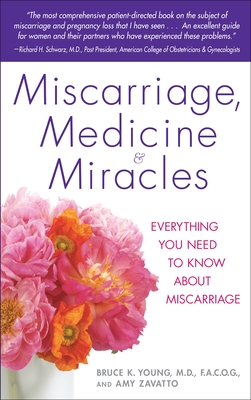 Miscarriage, Medicine & Miracles
Everything You Need to Know about Miscarriage
Bantam, Paperback, 9780553384857, 334pp.
Publication Date: April 28, 2009
* Individual store prices may vary.
Buy Now
or
Shop Local
Enter your zip code below to purchase from an indie close to you.
Description
"
"From one of the foremost doctors in the field and a journalist who has experienced multiple miscarriages herself comes an accessible, encouraging, and complete guide to both the causes and, more important, the prevention of miscarriage.
Though one in four American women will lose her pregnancy, with the right pre-pregnancy evaluation and ongoing care, for many women miscarriage can be prevented. During forty years of practice, Dr. Bruce Young has treated hundreds of women who experienced this heartbreaking loss and helped them bring babies to term. Now he has teamed up with one of his patients, Amy Zavatto, to write this compassionate guide that combines medical facts with insights from both the patient's and doctor's viewpoints. Including real-life case studies, Dr. Young provides in-depth answers to the questions: "Why did this happen to me?" and "What can I do to prevent it next time?
"Providing the most up-to-date information on physical and mental health, nutrition, and technology, here is a proactive tool and comforting resource from an expert with real-life reasons to give every woman hope for a successful pregnancy. "

About the Author


Amy Zavatto writes about food, wine, and entertainment for "Food & Wine, Gotham, Hamptons," and "TimeOut New York," as well as "TimeOut New Yorks Eating and Drinking Guide," Her articles have also appeared in "Jane" and "Atomic," Co-author of "Renaissance Guide to Wine and Food Pairing," Zavatto is an avid cook.
Praise For Miscarriage, Medicine & Miracles…
"Dr. Young and Amy Zavatto have produced the most comprehensive patient-directed book on the subject of miscarriage and pregnancy loss that that I have seen. It presents complete and scientifically sound information on the causes and prevention of recurrent miscarriage and does so in a fashion that does not require a medical education to understand….It will be an excellent guide for women and their partners who have experienced these problems."—Richard H. Schwarz, M.D., FACOG, FRCOG, Vice Chairman for Clinical Affairs, Department of Obstetrics and Gynecology, Maimonides Medical Center Professor of Obstetrics, Gynecology and Reproductive Science, Mt. Sinai School of Medicine

"This book deals with an issue that is not much talked about. It offers solutions in a down to earth manner that is easily accessible to everyone….I wish this book had been around when I was having the personal experience of multiple miscarriages."—Rebecca Lisa Shiffman, MD, Director of Obstetrics and Vicechair, Department of Obstetrics and Gynecology, New York Methodist Hospital

"Miscarriage is among the most common and most misunderstood aspects of all modern medicine. Dr Bruce Young, a pioneer and international leader in perinatal medicine, and Amy Zavatto, a patient who has experienced a miscarriage, have teamed up to write a comprehensive and compassionate analysis of this subject. All women who anticipate getting pregnant would benefit from this invaluable and unique text."—Frank A. Chervenak, M.D., Given Foundation Professor and Chairman, Department of Obstetrics and Gynecology, New York Weill Cornell Medical Center

"Comprehensive information on the causes and preventions of miscarriage."—Miami Herald