The Spy's Bedside Book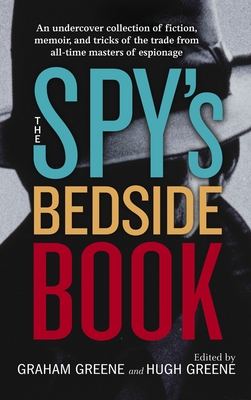 The Spy's Bedside Book
Bantam, Paperback, 9780553385908, 251pp.
Publication Date: August 26, 2008
* Individual store prices may vary.
Buy at Local Store
Enter your zip code below to purchase from an indie close to you.
or
Not Currently Available for Direct Purchase
Description
For everyone who's ever wondered what it really takes to be a spy, legendary author Graham Greene ("The Third Man, The Quiet American") and his brother Hugh have compiled this irresistible selection of fiction, memoir, and tricks of the trade straight from the all-time masters of espionage. Here is a perfectly safe way to discover the dangerous secrets many spies have died to learn.
Want to know how to hide a map of an enemy fort in a butterfly sketch? Wonder why James Bond himself advises always drinking vodka with pepper?
Who hasn t fantasized about being a secret agent or been captivated by the mysterious lore of spycraft? From the words of William Blake, D. H. Lawrence, and Thomas Mann all suspected of spying in three great wars to classic espionage stories by Joseph Conrad, Rudyard Kipling, Eric Ambler, Ian Fleming, and Graham Greene himself, this fascinating compendium of all things spy makes the perfect companion for the armchair agent in all of us. If this book divulged any more secrets, it would ve had to be written with invisible ink. (Find out how to make your own inside )
About the Author
Graham Greene, the novelist, served with the Secret Intelligence Service during WWII. Greene died in 1991. Hugh Greene came to prominence as a journalist in Nazi Berlin. After being expelled from Germany just before WWII, he served in the RAF as an interrogator. Greene went on to join the BBC and was made Director-General in 1960. He died in 1987.
"From the Hardcover edition."
Graham Greene (1904-1991), whose long life nearly spanned the length of the twentieth century, was one of its greatest novelists. Educated at Berkhamsted School and Balliol College, Oxford, he started his career as a sub-editor of the London Times. He began to attract notice as a novelist with his fourth book, Orient Express, in 1932. In 1935, he trekked across northern Liberia, his first experience in Africa, told in A Journey Without Maps (1936). He converted to Catholicism in 1926, an edifying decision, and reported on religious persecution in Mexico in 1938 in The Lawless Roads, which served as a background for his famous The Power and the Glory, one of several Catholic novels (Brighton Rock, The Heart of the Matter, The End of the Affair). During the war he worked for the British secret service in Sierra Leone; afterward, he began wide-ranging travels as a journalist, which were reflected in novels such as The Quiet American, Our Man in Havana, The Comedians, Travels with My Aunt, The Honorary Consul, The Human Factor, Monsignor Quixote, and The Captain and the Enemy. As well as his many novels, Graham Greene wrote several collections of short stories, four travel books, six plays, two books of autobiography, A Sort of Life and Ways of Escape, two biographies, and four books for children. He also contributed hundreds of essays and film and book reviews to The Spectator and other journals, many of which appear in the late collection Reflections. Most of his novels have been filmed, including The Third Man, which the author first wrote as a film treatment. Graham Greene was named Companion of Honour and received the Order of Merit among numerous other awards.
Praise For The Spy's Bedside Book…
"A charming curiosity….[The Spy's Bedside Book] serves not simply as a companion to espionage fiction, but as a kind of spy's how-to, right down to tips on secreting messages in boiled eggs and how to disguise maps in diagrams of butterfly wings (thanks to Sir Robert Baden-Powell, who actually did that)."—Los Angeles Times

"This compendium of memoir, fiction, aphorism and historical accounts of espionage through the centuries is the literary equivalent of a triple agent at a dead drop: You never know what you'll get, but it's always intriguing."–News & Observer, Raleigh"

Many of the early masters of spy fiction—from John Buchan to Ian Fleming—are represented in this quirky anthology, along with surprise guests, including W.H. Auden and Colette."—Wall Street Journal