With a Little Luck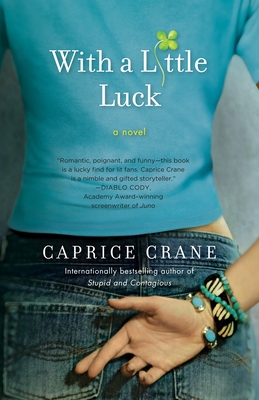 With a Little Luck
Bantam, Paperback, 9780553386240, 308pp.
Publication Date: July 26, 2011
* Individual store prices may vary.
Buy at Local Store
Enter your zip code below to purchase from an indie close to you.
or
Buy Here
Description
If love is in the cards, then somebody stacked the deck.
 
Los Angeles radio DJ Beryl "Berry" Lambert, whose name means luck, doesn't much believe in it—although, thanks to her dear old gambling dad, she's a bit superstitious, certain that everything happens for a reason. She keeps a four-leaf clover in her wallet, never takes off her horseshoe necklace, and won't tempt fate by walking under a ladder or opening an umbrella indoors. Ever.

When it comes to love, though, she could use a little luck. Two disastrous relationships back-to-back can mean only one thing to a woman who knows that everything good or bad happens in threes: A third Mr. Wrong is imminent. But fellow DJ Ryan Riley goes against the odds. Their on-air battle of the sexes is a hit for the station and sparks some serious heat after hours. Ryan is funny and sexy, and he thinks Berry's quirkiness is cute. Is their romance doomed by the numbers—or is a girl who leaves nothing to chance finally ready to gamble?

Caprice Crane's witty, winsome novel about the game of modern romance proves that with a little luck and the right stakes, everybody wins.
About the Author
Caprice Crane is the author of several novels for adults, including "Stupid and Contagious" and "With a Little Luck". She was born in Hollywood but don t hold that against her. She doesn t go wandering around with a tiny dog in her purse. Her mother, renowned film, television, and stage actress Tina Louise, is perhaps best known as Ginger Grant from the beloved sitcom "Gilligan s Island". Her father is former talk-show host and Grammy winner Les Crane. Caprice has worked for MTV Networks as a writer and producer, and has been a music supervisor for film and TV. Her screenwriting credits include "90210" (2008-13) and the movie "Love Wedding Marriage". She divides her time between New York City and L.A.
Praise For With a Little Luck…
"Romantic, poignant and funny—this book is a lucky find for lit fans. Caprice Crane is a nimble and gifted storyteller."—Diablo Cody, Academy Award-winning screenwriter of Juno

"Crane is one of the funniest writers of popular fiction around. The dialog (inner and outer) is laugh-out-loud, snort-inducing hilarious . . . Readers will want to cross their fingers and spit while throwing salt over their shoulders if it helps Berry reach her dreams. Highly recommended."—Library Journal

"Fans of Stacy Ballis and Cara Lockwood will appreciate Crane's effortlessly funny style, which is often attempted in popular fiction but is rarely this well executed...Lighthearted and charmingly honest."--Booklist

"[A] satisfying romantic comedy...[with] real character growth."--Kirkus Reviews

"With a Little Luck scores in humor, head, and heart. In other words, it's a perfect trifecta."—Karyn Bosnak, author of 20 Times a Lady (soon to be the major motion picture What's Your Number?)

"A hilarious romp that oozes charm and giddy fun. Caprice Crane is a true talent."—Molly Jong-Fast, author of The Social Climber's Handbook

"Witty, fast-paced, and sheer fun. Caprice Crane is a master of dialogue. Half the time I was reading this book I was smiling, which made me look like a crazy person on the subway."—Jancee Dunn, author of Don't You Forget About Me and Why Is My Mother Getting a Tattoo?

"Absolutely charming and hilarious."--Missy Peregrym, star of the movie Stick It and ABC's Rookie Blue

"Crane is a talented writer and fiercely funny, and this book is her best work." --The Roanoke Times

"With A Little Luck was something special, it had it all; it was funny, it was romantic, it was sweet, it was charming." --ChickLitReviews

Praise for the novels of Caprice Crane

"Perceptive, touching, and always hilarious . . . an irresistible story with equal parts humor and heart."—Emily Giffin, author of Heart of the Matter, on Family Affair
 
"Savage wit and breathtaking tenderness . . . Crane has romantic comedy in her DNA."—Jeff Arch, Oscar-nominated screenwriter of Sleepless in Seattle, on Forget About It