Shades of Gray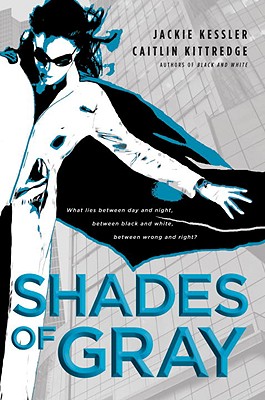 Shades of Gray
Spectra Books, Paperback, 9780553386325, 414pp.
Publication Date: June 22, 2010
* Individual store prices may vary.
Buy at Local Store
Enter your zip code below to purchase from an indie close to you.
or
Buy Here
Description
AFTER THE FALL OF NIGHT
 
Jet and Iridium—best friends turned bitter enemies—teamed up to foil the evil plans of the rogue superhero known as Night, but in defeating him they inadvertently destroyed the secret Corp-Co transmitter whose frequency kept the metapowered heroes of the Squadron in line. Now these heroes have turned against New Chicago, ransacking the city they once protected.

Even worse, the powerful antisuperhero group known as Everyman has taken advantage of the chaos to fan the flames of prejudice against all superpowered men and women. Just when New Chicago needs them most, Jet and the small band of heroes who have remained on the right side of the law find themselves the targets of suspicion and outright hatred.

Things aren't going much better for Iridium. When she springs her father, a notorious supervillain, from prison to help her fight the marauding ex-superheroes, she finds that Corp-Co still has some nasty tricks up its sleeve.

But when the most dangerous man alive, the sociopath known as Doctor Hypnotic, suddenly surfaces, Jet and Iridium will once again be called upon to set aside their differences. Yet in the process, deeply buried secrets will come to light that will change everything the former best friends think they know about each other and themselves.
About the Author
Ian Thomas Healy is a prolific writer who dabbles in many different speculative genres. He's a nine-time participant and winner of National Novel Writing Month where he's tackled such diverse subjects as sentient alien farts, competitive forklift racing, a religion-powered rabbit-themed superhero, cyberpunk mercenaries, cowboy elves, and an unlikely combination of vampires with minor league hockey. He is also the creator of the Writing Better Action Through Cinematic Techniques workshop, which helps writers to improve their action scenes. Ian also created the longest-running superhero webcomic done in LEGO, The Adventures of the S-Team, which ran from 2006-2012. When not writing, which is rare, he enjoys watching hockey, reading comic books (and serious books, too), and living in the great state of Colorado, which he shares with his wife, children, house-pets, and approximately five million other people. Follow him on Twitter as @ianthealy and on Facebook as Author Ian Thomas Healy. Check out his exclusive publishing imprint, Local Hero Press. His ebooks can be found on Smashwords, Kindle, Nook, Kobo, iBook Store, and other online retailers, and print books can be ordered through Amazon, CreateSpace, Barnes & Noble, your local bookstore or directly from Local Hero Press.

Caitlin Kittredge has written fifteen novels for adults and teens, including the award-winning Iron Codex trilogy. She also writes the horror comic Coffin Hill for DC/Vertigo. Caitlin lives in Massachusetts with several spoiled cats and a vast collection of geeky ephemera. When she's not working, she enjoys fixing up her 1881 Victorian house and reading extremely nerdy nonfiction books about serial killers, the Cold War, fringe science, and anything else that strikes her fancy.