The Courage to Be Rich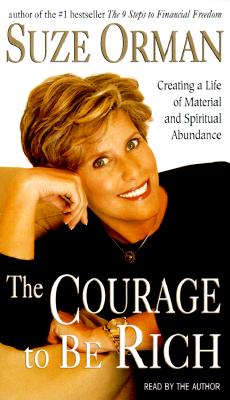 The Courage to Be Rich
The Financial and Emotional Pathways to Material and Spiritual Abundance
Random House Audio, Audio Cassette, Abridged, Abridged, 9780553526073
Publication Date: March 9, 1999
* Individual store prices may vary.
Not Currently Available for Direct Purchase
or
Shop Local
Enter your zip code below to purchase from an indie close to you.
Description
Bestselling author and financial expert Suze Orman helped millions of Americans turn toward their money and embark on a true path to wealth with her #1 bestseller The 9 Steps to Financial Freedom and her national bestseller You've Earned It, Don't Lose It.  Now she returns, with a book that goes beyond the fundamentals of her earlier work in challenging and inspiring us to realize our full financial potential, and to realize as well that the bottom line of life is comprised of much more than money.

Practical, spiritual, and above all soundly financial, The Courage Be Rich addresses the rites of passage we all must face-marriage, divorce, death; spending (and overspending) on life's necessities and luxuries; taking control of our financial tomorrows today.  From the business of love to buying a home; from imparting proper values to our children to defining our own self-worth; from starting over to staking a claim to our future, Orman shows us how to find the clarity, conviction, and courage to meet the obstacles and opportunities of a lifetime.  

Expressing her deep belief that only when we truly learn to value and respect money in the most expansive sense will we be able to change our financial destiny, Orman demonstrates-through exercises, examples and case studies-how to create a rich and abundant life, starting from what we have today.  Finally, she takes on the seldom explored subject of money and grace-the rewards wealth bestows and the responsibilities if confers.

There is no more persuasive, compelling, and honest a financial teacher today than Suze Orman.  Building on the rock-solid foundation of her earlier lessons, The Courage to Be Rich is, in every sense, higher education on matters of vital importance to us all.
About the Author
Suze Orman's first book, You've Earned It, Don't Lose It (Newmarket Press), which was first published in January 1995, is currently in its 21st printing and has sold more than 400,000 copies in its combined hardcover, softcover, and audio formats. It has appeared on the USA Today Business bestseller list and most recently on The Wall Street Journal        s Business bestseller list.

Suze Orman appears regularly on QVC as host of her own "Financial Freedom" hour. To date, Ms. Orman's television retailing sales total more than one million books and audio books, making her QVC's number-one selling author. On April 15, 1998, QVC launched Orman's new, step-by-step financial planning audiotapes and workbook set, Financial Freedom: Creating True Wealth Now, which generated an astounding sale of 70,000 sets when it first premiered.

A one-hour PBS television special based on The 9 Steps to Financial Freedom aired nationally during the March 1998 PBS pledge drive. It was the top performer and led the most successful pledge drive in PBS history. The show is scheduled to re-air in various PBS markets over the next four years.

Suze Orman currently writes a monthly financial column for Self magazine, which has generated tremendous reader response. She also served as editor-in- chief for Condé Nast's Currency, a financial magazine supplement sent to every Condé Nast magazine subscriber in March 1998. Another issue is scheduled for March 1999. Ms. Orman        s next book, The Courage To Be Rich, will be published by Riverhead Books in March 1999. A PBS special based on the title is scheduled to air in conjunction with its release.

Prior to establishing The Suze Orman Financial Group in 1987, Ms. Orman, a Certified Financial Planner, served as Vice President of Investments for Prudential Bache Securities from 1983-87. From 1980-83, she was an Account Executive at Merrill Lynch.

A sought after speaker, Suze Orman has lectured widely throughout the United States, helping people change the way they think about money. During the course of her career, she has been quoted in such publications as The New York Times, The Wall Street Journal, and USA Today, among others. Ms. Orman was a guest on The Oprah Winfrey Show six times during 1998 and will appear on Ms.
Winfrey        s new         Change Your Life TV         format on a recurring basis as its financial expert.

Suze Orman lives in Northern California.