Dance on the Wind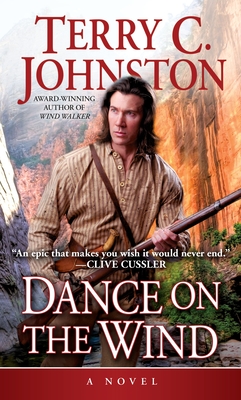 Dance on the Wind
The Plainsmen
Bantam, Mass Market Paperbound, 9780553572810, 640pp.
Publication Date: August 5, 1996
* Individual store prices may vary.
Buy Now
or
Shop Local
Enter your zip code below to purchase from an indie close to you.
Description
Titus Bassdrifts westward and is caught up in the powerful currents of the Mississippi River. From Louisville past the Chickasaw bluffs and the Natchez Trace all the way to New Orleans, he plunges into the rough-and-tumble life along the great river's banks: a volatile, violent country of riverboatmen and river bandits, knife fights and Indian raids, strong liquor and stronger women. But even as he works his way back upriver along the bustling wharves of St. Louis, Titus feels destiny beckoning him to plunge into an even wilder, more vast frontier. Beyond St. Louis stretches the lonely, unexplored expanse of the Great Plains, and it is here that Titus Bass will set his sights. Like America itself, Titus looks west and sees the future ... and he's willing to risk everything to seize it.
About the Author
Terry C. Johnston was born on the first day of 1947 on the plains of Kansas, and has lived all his life in the American West. His first novel, "Carry the Wind", won the Medicine Pipe Bearer's Award from the Western Writers of America, and his subsequent books have appeared on bestseller lists throughout the country. He lives and writes in Big Sky country near Billings, Montana.