Passage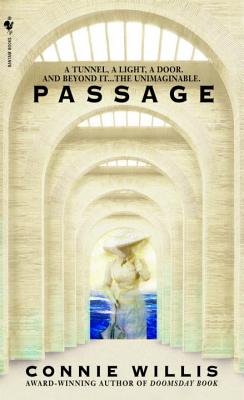 Passage
Bantam Books, Mass Market Paperbound, 9780553580518, 780pp.
Publication Date: January 2, 2001
* Individual store prices may vary.
Buy Now
or
Shop Local
Enter your zip code below to purchase from an indie close to you.
Description
A tunnel, a light, a door. And beyond it ... the unimaginable.
Dr. Joanna Lander is a psychologist specializing in near-death experiences. She is about to get help from a new doctor with the power to give her the chance to get as close to death as anyone can.
A brilliant young neurologist, Dr. Richard Wright has come up with a way to manufacture the near-death experience using a psychoactive drug. Joanna's first NDE is as fascinating as she imagined so astounding that she knows she must go back, if only to find out why that place is so hauntingly familiar.
But each time Joanna goes under, her sense of dread begins to grow, because part of her already knows why the experience is so familiar, and why she has every reason to be afraid.
Yet just when Joanna thinks she understands, she's in for the biggest surprise of all ashattering scenario that will keep you feverishly reading until the final climactic page.
About the Author
Connie Willis is the award-winning author of Doomsday Book, Passage, To Say Nothing of the Dog and Bellwether. Connie has been awarded 10 Hugo Awards, 11 Locus Poll Awards and 6 Nebula Awards.
Praise For Passage…
"A true heir to John Donne, Kurt Gödel and Preston Sturges, a wit with a common touch who's read more great books, and makes better use of them in her work, than two or three lit professors put together."
— Newsday

"Willis has developed an idea that bears all the authority of a genuine insight: disturbingly plausible, compelling, intensely moving, and ultimately uplifting."
— Kirkus Reviews (starred review)

"Thoughtful, often fascinating ... Willis makes Lander's journeys into the afterworld increasingly frightening and compelling."
— Chicago Tribune


Also by Connie Willis:

Lincoln's Dreams
Doomsday Book
Impossible Things
Uncharted Territory
Remake
Bellwether
Fire Watch
To Say Nothing of the Dog
Miracle and Other Christmas Stories

Available wherever Bantam Books are sold