The Complete Book of Breastfeeding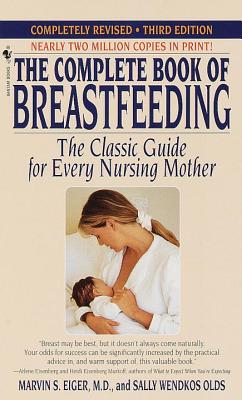 The Complete Book of Breastfeeding
Revised Edition
Bantam, Mass Market Paperbound, 9780553580747, 528pp.
Publication Date: September 1, 1999
* Individual store prices may vary.
Buy at Local Store
Enter your zip code below to purchase from an indie close to you.
or
Not Currently Available for Direct Purchase
Description
The classic guide to breastfeeding, now updated for another generation of mothers

This totally revised third edition of The Complete Book of Breastfeeding provides everything you need to know to make nursing your baby a deeply rewarding experience. Dr. Marvin Eiger, a nationally known pediatrician and breastfeeding authority, and Sally Wendkos Olds, an award-winning medical writer who nursed her own three children, provide the latest information on:

The new breastfeeding guidelines issued by the American Academy of Pediatrics
Proven new health benefits of breastfeeding--for mother and baby
What to do before the baby arrives
Sexuality during the nursing period
Breastfeeding and the working mother
Expressing and pumping milk--a complete step-by-step guide
How to build a support system including your husband, family, friends, and other nursing mothers--and when to seek help from a lactation expert

--PLUS--

Expert advice on positioning the baby, night feedings, drugs to avoid while nursing, nutrition, weaning, exercise, weight loss, a special section for dad, and much more
About the Author
Marvin S. Eiger, M.D., is a nationally known pediatrician who practiced in New York City for 30 years.
"
Sally Wendkos Olds has written extensively about child development, family life, human relationships, and health, and has won national awards for her book and magazine writing. She is the author or coauthor of eleven books and more than 200 articles that have appeared in major national magazines.
Her first book, The Complete Book of Breastfeeding, first published in 1972, has been revised three times, most recently in 2010 for its fourth edition, and is now a classic in the field, having sold about two million copies. Her college textbooks A Child's World and Human Development (coauthored with Diane E. Papalia, Ph.D.) are leading texts in child and life-span development, and have been revised every three years. More than two million college students have read one of these books. She is also the author of The Working Parents' Survival Guide (first published in 1983 and reissued in 1989 and 2000 (2000 edition available from iUniverse.com), and of The Eternal Garden: Seasons of Our Sexuality, 1985. Her most recent book is Super Granny: Great Stuff to Do with Your Grandkids (2009, soon to be available from iUniverse.com).
Sally appears often on radio and TV and regularly speaks to diverse groups. She has made seven trips to Nepal and has spoken about them to enthusiastic audiences. For more information, go to www.SallyWendkosOlds.com.
Margaret Roche has traveled to Nepal 12 times. Always carrying her sketch book, she draws and paints the people she meets along the way as she treks through hills and villages in the Himalayas. Later, back in her studio, she works some of the drawings into limited-edition intaglio etchings. She has had many exhibitions of her artwork and is represented in private collections in several countries."
Praise For The Complete Book of Breastfeeding…
"Breast may be best, but it doesn't always come naturally. Your odds for success can be significantly increased by the practical advice in, and warm support of, this valuable book."
--Arlene Eisenberg and Heidi Eisenberg Murkoff, authors of What to Expect When You're Expecting

"A skillful blend of professional expertise and practical advice."
--Betty L. Crase, IBCLC, former Director of the Center
for Breastfeeding Information, La Leche League International