Whisker of Evil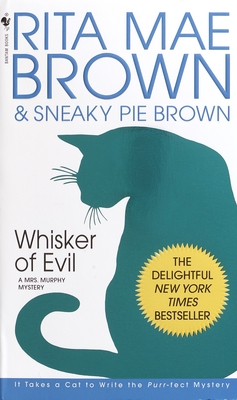 Whisker of Evil
Bantam, Mass Market Paperbound, 9780553582864, 384pp.
Publication Date: January 25, 2005
* Individual store prices may vary.
Buy Now
or
Shop Local
Enter your zip code below to purchase from an indie close to you.
Description
A mysterious death in a Virginia farm town has the locals scratching their heads while frisky feline Mrs. Murphy and her friends, fat-cat Pewter and corgi Tee Tucker, uncover clues as they curl their way around a cold-blooded killer.
This balmy summer in Crozet, Virginia, postmistress Mary Minor Harry Haristeen has a lot to think about. Things have been pretty cozy between her and her ex-husband, Fair and her beloved old post office is in danger of being replaced with a modern building and modern rules. Harry's thoughtful contemplation is shattered the day she stumbles over a dead body near Potlicker Creek. Barry Monteith, the handsome local horse breeder, has been savagely murdered. A true ladies man, Barry was known to have left a string of broken hearts behind him. But could a spurned lover be responsible for his untimely demise?
The plot only thickens when an autopsy reveals that Barry was infected with rabies weeks before he was killed. As usual, Harry can t resist doing a little digging with Mrs. Murphy close by to warn of approaching danger. Harry makes a remarkable discovery in the creek the class ring of Mary Pat Reines, a local woman who disappeared thirty years earlier along with her prized Thoroughbred stallion. Like Barry, Mary Pat was a successful horse breeder and now all of Crozet is wondering if the two cases are linked. As the police struggle with the evidence, the pressure gets hotter than a June afternoon especially when another person is found dead of less-than-natural causes. As usual, Mrs. Murphy and her crew are the first to sniff out the truth.
But if they don t find a way to help Harry piece together the puzzle, she could become the killer's next target and even Mrs. Murphy's slinkiest moves won t be able to save her.
"From the Hardcover edition.
About the Author
Rita Mae Brown is the bestselling author of several books. An Emmy-nominated screenwriter and poet, she lives in Afton, Virginia.
Sneaky Pie Brown, a tiger cat born somewhere in Albemarle County, Virginia, was discovered by Rita Mae Brown at her local SPCA. They have collaborated on fifteen previous Mrs. Murphy mysteries: Wish You Were Here; Rest in Pieces; Murder at Monticello; Pay Dirt; Murder, She Meowed; Murder on the Prowl; Cat on the Scent; Pawing Through the Past; Claws and Effect; Catch as Cat Can; The Tail of the Tip-Off; Whisker of Evil; Cat's Eyewitness; Sour Puss; and Puss 'n Cahoots, in addition to Sneaky Pie's Cookbook for Mystery Lovers.