Sole Survivor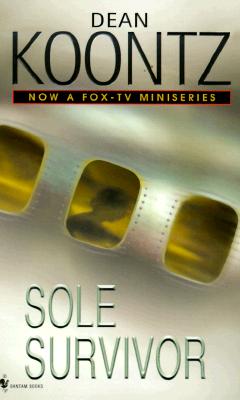 Sole Survivor
Bantam, Mass Market Paperback, 9780553582949, 416pp.
Publication Date: April 4, 2000
* Individual store prices may vary.
Buy at Local Store
Enter your zip code below to purchase from an indie close to you.
or
Not Currently Available for Direct Purchase
Description
A catastrophic, unexplainable plane crash leaves three hundred and thirty dead -- no survivors. Among the victims are the wife and two daughters of Joe Carpenter, a Los Angeles Post crime reporter.

A year after the crash, still gripped by an almost paralyzing grief, Joe encounters a woman named Rose, who claims to have survived the crash. She holds out the possibility of a secret that will bring Joe peace of mind. But before he can ask any questions, she slips away.

Driven now by rage (have the authorities withheld information?) and a hope almost as unbearable as his grief (if there is one survivor, are there others?), Joe sets out to find the mysterious woman. His search immediately leads him into the path of a powerful and shadowy organization hell-bent on stopping Rose before she can reveal what she knows about the crash.

Sole Survivor unfolds at a heart-stopping pace, as a desperate chase and a shattering emotional odyssey lead Joe to a truth that will force him to reassess everything he thought he knew about life and death -- a truth that, given the chance, will rock the world and redefine the destiny of humanity.
About the Author
When he was a senior in college, Dean Koontz won an Atlantic Monthly fiction competition. He has been writing ever since. His books are published in 38 languages; worldwide sales are over 300 million copies.

Ten of his novels have risen to number one on the New York Times hardcover best-seller list (The Husband, One Door Away From Heaven, From The Corner Of His Eye, Midnight, Cold Fire, Hideaway, Dragon Tears, The Bad Place, Intensity, and Sole Survivor). Thirteen of his books have risen to the number one position in paperback.

Several of his books have been adapted into feature films and TV miniseries, including the highly rated "Intensity" on the Fox Network. The Husband is currently in development as a major motion picture by Focus Features/Random House Films.

The New York Times has called his writing "psychologically complex, masterly and satisfying." The New Orleans Times-Picayune said Koontz is "lyrical without ever being naive or romantic. [He creates] a grotesque world, much like that of Flannery O'Connor or Walker Percy ... scary, worthwhile reading." The London Times called him "a literary juggler," and Publishers Weekly recently stated in a starred review that Koontz "gives readers bright hope in a dark world. He is a true original."

Dean Koontz was born and raised in Pennsylvania. He graduated from Shippensburg State College (now Shippensburg University), and his first job after graduation was with the Appalachian Poverty Program, where he was expected to counsel and tutor underprivileged children on a one-to-one basis. His first day on the job, he discovered that the previous occupier of his position had been beaten up by the very kids he had been trying to help and had landed in the hospital for several weeks. The following year was filled with challenge but also tension, and Koontz was more highly motivated than ever to build a career as a writer. He wrote nights and weekends, which he continued to do after leaving the poverty program and going to work as an English teacher in a suburban school district outside Harrisburg. After he had been a year and a half in that position, his wife, Gerda, made him an offer he couldn't refuse: "I'll support you for five years," she said, "and if you can't make it as a writer in that time, you'll never make it." By the end of those five years, Gerda had quit her job to run the business end of her husband's writing career. Dean and Gerda Koontz live in southern California with their golden retriever, Trixie, who herself has written two successful books—Life Is Good and Christmas Is Good.
Praise For Sole Survivor…
"Koontz at his haunting, page-turning best."—The Philadelphia Inquirer
 
"Dean Koontz is one of the best suspense writers operating today, with unfailing narrative drive."—The Dallas Morning News
 
"[A] fast-paced masterpiece . . . impossible to put down."—Lansing State Journal
 
"Taut plotting, stark terror, and sweet redemption."—The Atlanta Journal-Constitution