Fifty Degrees Below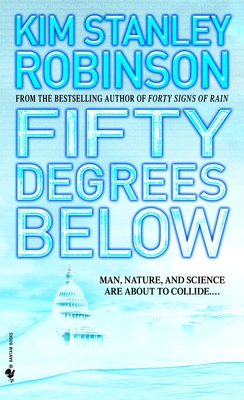 Fifty Degrees Below
Bantam Books, Mass Market Paperbound, 9780553585810, 603pp.
Publication Date: January 30, 2007
* Individual store prices may vary.
Buy at Local Store
Enter your zip code below to purchase from an indie close to you.
or
Buy Here
Description
Bestselling, award-winning, author Kim Stanley Robinson continues his groundbreaking trilogy of eco-thrillers–and propels us deeper into the awesome whirlwind of climatic change. Set in our nation's capital, here is a chillingly realistic tale of people caught in the collision of science, technology, and the consequences of global warming–which could trigger another phenomenon: abrupt climate change, resulting in temperatures...

When the storm got bad, scientist Frank Vanderwal was at work, formalizing his return to the National Science Foundation for another year. He'd left the building just in time to help sandbag at Arlington Cemetery. Now that the torrent was over, large chunks of San Diego had eroded into the sea, and D.C. was underwater.

Shallow lakes occupied the most famous parts of the city. Reagan Airport was awash and the Potomac had spilled beyond its banks. Rescue boats dotted the saturated cityscape. Everything Frank and his colleagues in the halls of science and politics feared had culminated in this massive disaster. And now the world looked to them to fix it.

Whatever Frank can do, now that he is homeless, he'll have to do from his car. He's not averse to sleeping outdoors. Years of research have made him hyperaware of his status as just another primate. That plus his encounter with a Tibetan Buddhist has left him resolved to live a more authentic life.

Hopefully, this will prepare him for whatever is to come....

For even as D.C. bails out from the flood, a more extreme climate change looms. With the melting of the polar ice caps shutting down the warm waters of the Gulf Stream, another Ice Age could be imminent. The last time it happened, eleven thousand years ago, it took just three years to start.

Once again Kim Stanley Robinson uses his remarkable vision, trademark wry wit, and extraordinary insight into the complexity between man and nature to take us to the brink of disaster–and slightly beyond.
About the Author
Kim Stanley Robinson's Three Californias trilogy -- "The Gold Coast", "The Wild Shore" and "Pacific Edge -- "has been observed as "an intriguing work, one that will delight and entertain you, and, most importantly, cause you to stop and think" ("The Santa Ana Register"). His many other novels include "Escape from Kathmandu" and "Green Mars -- "which won the Hugo and Locus Award for Best Novel.
Praise For Fifty Degrees Below…
"Fifty Degrees Below should be required reading for anyone concerned about our world's future.... it provides perhaps the most realistic portrayal ever created of the environmental changes that are already occurring on our planet."—Publishers Weekly, starred review

"Fast-paced and exciting.... First-rate ecological speculation."—Kirkus Reviews

"Could give Michael Crichton a run for his money.... should be required reading for government officials and voters."—St. Louis Post-Dispatch