The Boys Are Back in Town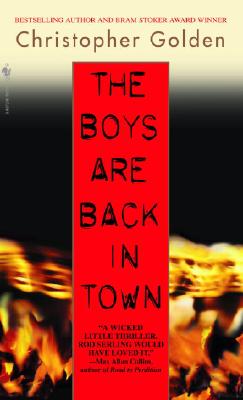 The Boys Are Back in Town
Spectra Books, Mass Market Paperbound, 9780553586152, 393pp.
Publication Date: February 26, 2008
* Individual store prices may vary.
Not Currently Available for Direct Purchase
or
Shop Local
Enter your zip code below to purchase from an indie close to you.
Description
From a master of horror, dark fantasy, and suspense comes a compelling and uniquely original work of paranormal suspense in which one man finds himself trapped in a web of ever-shifting reality which threatens to remake the whole of the world—unless he can find a way to stop it.

For Will James, facing his tenth high school reunion is far from his finest hour—especially since his life has not gone exactly as he planned. Dumped at the altar by his high school sweetheart and with his dreams of being a prize-winning reporter dashed by his job at a Boston tabloid, he is not sure he is ready to face his former peers.

But what he does find at the reunion is far more than he bargained for. He soon learns that one of his buddies had died several years back—even though Will had received an e-mail from him only a few days before. It is not long before other people Will was convinced were alive are turning out to be dead as well—or married to other people, or childless where they used to have children. And new memories are swarming in to replace what Will is convinced was his old life, until he no longer knows what is real and what is not. The only thing he does know for certain is that he has to figure out why he alone remembers snatches of another life before everything dissolves into this new, darker reality.
About the Author
Christopher Golden is a New York Times bestselling author of novels for adults and teens, including Of Saints and Shadows, The Myth Hunters, The Boys Are Back in Town, Strangewood, and the Body of Evidence series of teen thrillers. He has cowritten two previous illustrated novels with Mike Mignola, the first of which, Baltimore, or, The Steadfast Tin Soldier and the Vampire, was the launching pad for the Eisner-nominated comic book series Baltimore. His current work-in-progress is a graphic novel trilogy collaboration with Charlaine Harris. As an editor, he has worked on the short-story anthologies The New Dead, The Monster s Corner, and 21st Century Dead, among others, and has also written and cowritten comic books, video games, and screenplays. Golden was born and raised in Massachusetts, where he still lives with his family. His original novels have been published in more than fourteen languages in countries around the world.