Hiss of Death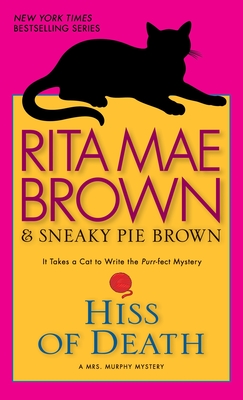 Hiss of Death
Bantam, Mass Market Paperbound, 9780553591613, 311pp.
Publication Date: February 28, 2012
* Individual store prices may vary.
Buy Now
or
Shop Local
Enter your zip code below to purchase from an indie close to you.
Description
Ah, spring The brighter days and singing birds have a way of lifting people's spirits, as well as those of their animal companions. But the season can also bring out the first blossoms of murder. As the redbuds open in Crozet, Virginia, Mary Minor Harry Haristeen is especially excited until a health crisis sends her reeling into the forbidding world of hospitals and doctors, treatments and procedures. Surviving this journey will be tough, but Harry has her animal friends and her ever-helpful husband, Fair to support her. Others are considerably less fortunate: A promising nurse's lifeless body is discovered without a mark on her. Then another hospital employee, who had seemed in perfect health, is also found dead. There's a mystery afoot and that's one thing Harry and her menagerie can t keep their noses out of.
About the Author
Rita Mae Brown is the bestselling author of several books. An Emmy-nominated screenwriter and poet, she lives in Afton, Virginia.
Sneaky Pie Brown, a tiger cat born somewhere in Albemarle County, Virginia, was discovered by Rita Mae Brown at her local SPCA. They have collaborated on fifteen previous Mrs. Murphy mysteries: Wish You Were Here; Rest in Pieces; Murder at Monticello; Pay Dirt; Murder, She Meowed; Murder on the Prowl; Cat on the Scent; Pawing Through the Past; Claws and Effect; Catch as Cat Can; The Tail of the Tip-Off; Whisker of Evil; Cat's Eyewitness; Sour Puss; and Puss 'n Cahoots, in addition to Sneaky Pie's Cookbook for Mystery Lovers.



Praise For Hiss of Death…
"As feline collaborators go, you couldn't ask for better than Sneaky Pie Brown."—The New York Times Book Review

"[Rita Mae Brown] reunites the reader with beloved characters, supplies a wealth of local color and creates a killer whose identity and crimes are shocking."—Richmond Times-Dispatch
 
"The paw-biting action . . . builds to the revelation of a surprising killer."—Publishers Weekly