Norse Code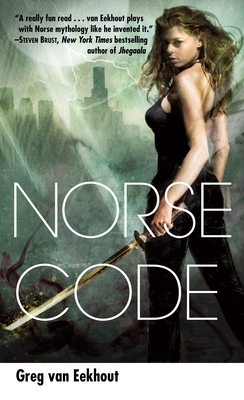 Norse Code
Spectra Books, Mass Market Paperbound, 9780553592139, 292pp.
Publication Date: May 19, 2009
* Individual store prices may vary.
Buy at Local Store
Enter your zip code below to purchase from an indie close to you.
or
Not Currently Available for Direct Purchase
Description
Is this Ragnarok, or just California?

The NorseCODE genome project was designed to identify descendants of Odin. What it found was Kathy Castillo, a murdered MBA student brought back from the dead to serve as a valkyrie in the Norse god's army. Given a sword and a new name, Mist's job is to recruit soldiers for the war between the gods at the end of the world—and to kill those who refuse to fight.

But as the twilight of the gods descends, Mist makes other plans.

Journeying across a chaotic American landscape already degenerating into violence and madness, Mist hopes to find her way to Helheim, the land of the dead, to rescue her murdered sister from death's clutches. To do so, she'll need the help of Hermod, a Norse god bumming around Los Angeles with troubles of his own. Together they find themselves drafted into a higher cause, trying to do what fate long ago deemed could not be done: save the world of man. For even if myths aren't made to be broken, it can't hurt to go down fighting…can it?
About the Author
Greg van Eekhout is an American fantasy and science fiction writer born and raised in Los Angeles. Following his professional debut, a story in Starlight 3, he published a couple of dozen stories, appearing in most of the genre s major science fiction magazines, several anthologies, and a number of Year s Best compilations. His story In the Late December was a Nebula finalist, and his first novel, Norse Code, came out in 2009. For fun, Greg practices Northern Shaolin kung fu and indulges his love of little tacos.
Praise For Norse Code…
"Norse Code is a clever, witty reimagining of one of our enduring myths in a world of Southern California baristas and shopping malls: Ragnarok at Malibu, with wandering gods, thoughtful monsters, high tech Valkyries and world-spanning catastrophes. Van Eekhout demonstrates his well-deserved reputation as a masterful short fiction stylist on a much larger canvas—one that stretches from the frozen basements of hell to the depths of black infinity, without ever losing his focus on the human and the humane. A satisfying read that taps the vein of our oldest legends in the most modern way possible."—Jay Lake, author of Escapement

"Greg van Eekhout combines the thrills of gods and monsters with the chills of endless winter in this inventive and mythic modern fantasy. Neil Gaiman fans take note!"—Tim Pratt, author of The Strange Adventures of Rangergirl

"Van Eekhout plays with Norse mythology like he invented it. This is a really fun read, with plenty of cool bits to chew over after putting it down. I like this book a lot." — Steven Brust, author of Jhegaala

"Norse Code has bone crunching battles, ironic ravens, a resistance movement of dead Iowans, a great loner hero redeemed by the love of a spunky valkyrie in California during the apocalypse, and lots of wit. If that doesn't sound like fun to you, all I can say is, well, I'm sorry. Cause it is."—Maureen McHugh, author of China Mountain Zhang

"A renegade valkyrie and a runaway god team up to stop the apocalypse in a book filled with battles and betrayals, love and hope.  If the world ends tomorrow, you can't do anything better than read Greg van Eekhout's Norse Code.  But don't blame me if you end up joining the resistance.  I love this book."–C. C. Finlay, author of The Patriot Witch