The Conqueror's Shadow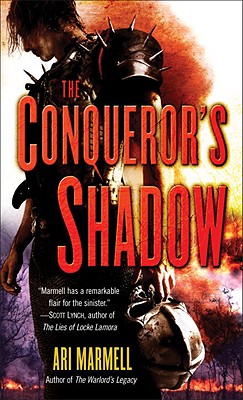 The Conqueror's Shadow
Spectra Books, Mass Market Paperbound, 9780553593150, 465pp.
Publication Date: December 28, 2010
* Individual store prices may vary.
Buy at Local Store
Enter your zip code below to purchase from an indie close to you.
or
Not Currently Available for Direct Purchase
Description
They called him the Terror of the East. Hidden beneath a suit of enchanted black armor and wielding a demon-forged axe, Corvis Rebaine carved a bloody path through Imphallion, compelled by a desire to see the land governed with some degree of honesty. Yet just when victory was in his grasp, Rebaine faltered, then vanished, taking a single hostage a young noblewoman named Tyannon to guarantee his escape.
Seventeen years later, Rebaine and Tyannon are married and raising their children. Rebaine has given up his dreams of conquest. Not even news of the upstart warlord Audriss can stir the retired warrior to action until his daughter is assaulted by Audriss's goons. Now, to rescue the country he once tried to conquer, Rebaine once more dons the armor of the Terror of the East. But does he dare reawaken the part of him that gloried in destruction? With the safety of his family at stake, can he dare not to?
About the Author
Ari Marmell vit a Austin (Texas) dans un appartement, presque aussi encombre que son inconscient, qu'il partage (l'appartement, pas l'inconscient) avec sa femme et deux chats, qui auraient fortement besoin d'un controle de volume integre.
Praise For The Conqueror's Shadow…
"The Conqueror's Shadow is a powerful fantasy, with well drawn heroes and delightfully wicked, yet complicated, villains. Ari Marmell has made his mark in the genre." –Paul S. Kemp, author of The Erevis Cale Trilogy
 
"The Conqueror's Shadow offers readers a tale that begins where most stories end and features a most unlikely protagonist.  Twists of humor leaven this story of desperate people in dangerous times, as a conqueror discovers that perhaps those who live by the sword are sometimes doomed to face the business end of one.  A great mix of character and action." –Robin Hobb, author of Dragon Keeper
 
"It's not often that a fantasy starts off with the victorious conqueror of a city and a land almost immediately and deliberately vanishing at the height of his victory—but that's exactly what happens with From that decision flows a plot jammed with action, repercussions, a tender love story, and a most humorously intriguing conclusion." –L. E. Modesitt, Jr., author of the Saga of Recluce

"Superior storytelling and deft dialog make this a top-notch choice." –Library Journal

"Ari Marmell has a remarkable flair for the sinister." –Scott Lynch, author of The Lies of Locke Lamora

"An amusing adventure…Corvis is charmingly cunning." –Publishers Weekly

"This dark tale of good and evil still retains a wicked sense of humor.  It's a heroic fantasy with an intriguing anti-hero and rich, complex secondary characters. The quick pace, action, romance and magical worldbuilding take readers on a page-turning adventure." —Romantic Times, 4 out of 5 star

"Marmell puts together a wonderful piece of epic fantasy…I have not been so enthused to continue reading a book in a very long time, and The Conqueror's Shadow did that very well.  To say I am excited to read what Ari Marmell has to give us next is an understatement." –BCS Reviews

"Ari Marmell's The Conqueror's Shadow was a major surprise…I wasn't sure I would enjoy reading it.  But I did. Very much. In fact, The Conqueror's Shadow is one of the most enjoyable fantasy books that I've read in a long time, and I sincerely hope Ari Marmell serves up more of the same in his next novel." –Fantasy Book Critic

"Arock-solid fantasy…filled with darkness and humor. I think fans of Joe Abercrombie, Scott Lynch and Patrick Rothfuss will find Ari Marmell much to their liking. The Conqueror's Shadow is a really fun read and one that I think most fans of dark fantasy will enjoy. Considering, this is Ari Marmell's first novel, I think the future looks very promising for him. I for one look forward to reading his next effort." –SF Site

"Ari Marmell's The Conqueror's Shadow is an epic fantasy novel with a dark sense of humor.  The world woven here is classic fantasy but with Marmell's own unique twists.  Captive demons, haunted forests, demon-forged weapons – these ideas have been done before, but in this novel they are received as a breath of fresh air.  The dialogue is witty, the characters are completely fleshed out, and Rebaine's own history is teased out as the main story progresses.  The ending comes together with a bang, leaving the reader satisfied but still quietly hoping for more." –Sacramento Book Review

"The Conqueror's Shadow is an entertaining read that fantasy fans won't want to miss." --NewsOK

"Get's the blood pounding...a book that any fan of epic fantasy will get a lot out of." --Graame's Fantasy Book Review