White Satin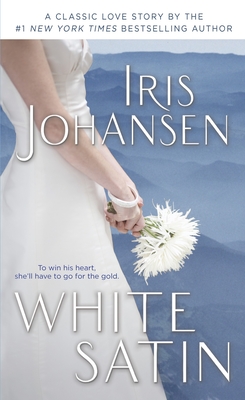 White Satin
Bantam, Mass Market Paperbound, 9780553593709, 292pp.
Publication Date: November 23, 2010
* Individual store prices may vary.
Buy Now
or
Shop Local
Enter your zip code below to purchase from an indie close to you.
Description
In this classic novel, "New York Times" bestselling author Iris Johansen spins a marvelous love story about a world-class figure skater, her distant, demanding mentor, and the high-stakes competition that could bring them together at last or put all their dreams on ice.
WHITE SATIN
On the smooth, silvery surface of the ice skating rink, Dany Alexander cuts a figure of strength and fire, beauty and grace. One man alone is responsible for Dany's success: Anthony Malik, a former skating star who has managed her career for the past sixteen years. And for all that time, deep within his fortress of money, sex, and power, Anthony has found his attraction for Dany growing more intense. Now he wants Dany not as a prodigy, but as a lover.
Part guru, part taskmaster, and total mystery, Anthony is adept at finding out things about Dany that she's kept hidden even from herself. The depth of his desire for her can t be denied. But what about Dany's own need to get to know her mentor as the man he really is? With the Olympics just weeks away, an extraordinary contest of wills has begun. It could culminate in a crushing fall, or the greatest prize of all.
About the Author
Iris Johansen is the New York Times bestselling author of Your Next Breath, The Perfect Witness, Live to See Tomorrow, Silencing Eve, Hunting Eve, Taking Eve, Sleep No More, What Doesn t Kill You, Bonnie, Quinn, Eve, Chasing the Night, Eight Days to Live, Blood Game, Deadlock, Dark Summer, Pandora s Daughter, Quicksand, Killer Dreams, On the Run, Countdown, Firestorm, Fatal Tide, Dead Aim, and more. And with her son Roy Johansen, she has coauthored Sight Unseen, Close Your Eyes, Shadow Zone, Storm Cycle, and Silent Thunder.