Sideshow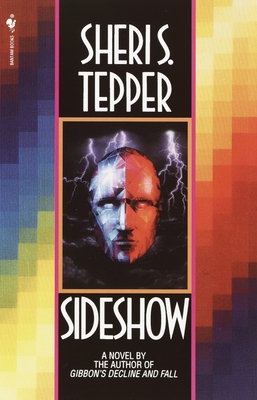 Sideshow
Spectra Books, Paperback, 9780553762891, 496pp.
Publication Date: February 1, 1993
* Individual store prices may vary.
Buy at Local Store
Enter your zip code below to purchase from an indie close to you.
or
Buy Here
Description
On the planet of Elsewhere, the Council hadalways enforced the governing of each province inthe manner the people had chosen, so long as eachrespected its neighbors' local customs--and so longas the people remained within their homelands.Generations later, inhabitants have begun to questionthis tradition. The Council has receivedmysterious messages and reports of strange manifestationsacross the planet. Now, Enforcer Fringe Owldark hasbeen sent with a small crew of seven, eachpossessing an unusual talent, to investigate their worstfear--the arrival of the Hobbs Land gods. Free willand the reality of God are just too of thetimeless issues this courageous band of humans mustconfront as they strive to decide if complete toleranceand leaving others alone is evil. . .and what theyshould do if it is. Vividly imagined andexquisitely rendered, Sideshow is Sheri S. Tepper's mostcontroversial novel yet.
From the Paperback edition.
Praise For Sideshow…
"An  impressive performance-it combines adventure and  satire, draws engaging characters, creates a world  of wonders, and grapples with important questions  about freedom, responsibility, identify, and  destiny."--Locus

"Tepper's imaginative vision holds forth and  delivers one of her most challenging works to  date."--Library  Journal.


From the Paperback edition.