Overcoming Hypertension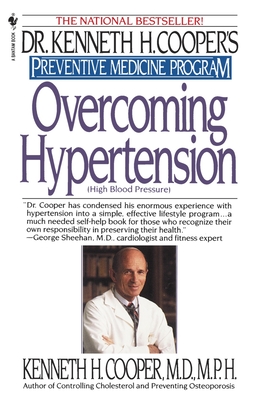 Overcoming Hypertension
Bantam, Paperback, 9780553763126, 464pp.
Publication Date: September 5, 2003
* Individual store prices may vary.
Buy at Local Store
Enter your zip code below to purchase from an indie close to you.
or
Buy Here
Description
Like a time bomb ticking away, hypertensionbuilds quietly, gradually, placing unbearable strain onthe body until it explodes--in heart attack, stroke, kidney failure, arterial disease, even death.But the disease does not have to progress thatway. Here, in the third volume of the highlyacclaimed
Preventive Medicine Program
, Dr. Kenneth H. Cooper, one of the nations foremostexperts in the field of preventive medicine, presents a medically sound, reassuringly simple programthat help you lower you blood pressure--and keepit down, often without drugs.
OvercomingHypertension
givesyou:

--The latest facts on how cholesterol, cigarettesmoking, obesity, and stress affect coronary risklevels.

--Your high blood pressurerisk profile, with newly devised charts for menand women.

--A complete fitnessprogram that lets you choose the sport that works foryou. Plus a unique illustrated guide toaqua-aerobics.

--Tips on talking to yourdoctor that will help you become an activeparticipant in your own recovery.

--Aguide to anti-hypertensive drugs--the most up-to-datelist of medications, their recommended dailydoses, and ways to minimize sideeffects.

--Three distinct dietary programs, complete withmenus, recipes, nutritional charts, healthy cookingtips, and much more.

--Takecharge of your health and well-being withOvercomingHypertension.
From the Paperback edition.
Praise For Overcoming Hypertension…
"Every hypertensive person would benefit from  having this book to refer to understanding their  problem and learning how to effectively deal with it.  Physicians would do well to recommend to their  hypertensive patients to facilitate their medical  management."--William B. Kannel, M.D., M.PH.,  professor of medicine and public health, Section of  Preventive Medicine and Epidemiology, Boston  University School of Medicine.


From the Paperback edition.