Stalking Irish Madness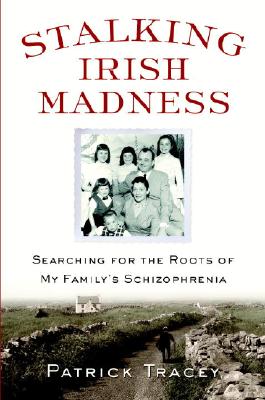 Stalking Irish Madness
Searching for the Roots of My Family's Schizophrenia
Bantam, Hardcover, 9780553805253, 288pp.
Publication Date: August 26, 2008
* Individual store prices may vary.
Buy at Local Store
Enter your zip code below to purchase from an indie close to you.
or
Not Currently Available for Direct Purchase
Description
In this powerful, sometimes harrowing, deeply felt story, Patrick Tracey journeys to Ireland to track the origin and solve the mystery of his Irish-American family's multigenerational struggle with schizophrenia.

For most Irish Americans, a trip to Ireland is often an occasion to revisit their family's roots. But for Patrick Tracey, the lure of his ancestral home is a much more powerful need: part pilgrimage, part investigation to confront the genealogical mystery of schizophrenia–a disease that had claimed a great-great-great-grandmother, a grandmother, an uncle, and, most recently, two sisters.

As long as Tracey could remember, schizophrenia ran on his mother's side, seldom spoken of outright but impossible to ignore. Devastated by the emotional toll the disease had already taken on his family, terrified of passing it on to any children he might have, and inspired by the recent discovery of the first genetic link to schizophrenia, Tracey followed his genealogical trail from Boston to Ireland's county Roscommon, home of his oldest-known schizophrenic ancestor. In a renovated camper, Tracey crossed the Emerald Isle to investigate the country that, until the 1960s, had the world's highest rate of institutionalization for mental illness, following clues and separating fact from fiction in the legendary relationship the Irish have had with madness.

Tracey's path leads from fairy mounds and ancient caverns still shrouded in superstition to old pubs whose colorful inhabitants are a treasure trove of local lore. He visits the massive and grim asylum where his famine starved ancestors may have lived. And he interviews the Irish research team that first cracked the schizophrenic code to learn how much–and how little–we know about this often misunderstood disease.

Filled with history, science, and lore, Stalking Irish Madness is an unforgettable chronicle of one man's attempt to make sense of his family's past and to find hope for the future of schizophrenic patients.
About the Author
Patrick Tracey, a former contributing writer for the "Washington City Paper "and" Regardie's "in Washington, D.C., has also written for "Ms." magazine and the "Washington Post." He is the author of two nonfiction collections of biographical essays for the American Profiles series. After twenty-five years on his own twisted road, Tracey now lives with his sisters in Boston, Massachusetts.
Praise For Stalking Irish Madness…
"Mystical and miserable, tragic and hilarious, like Irish life itself. An utterly absorbing book that will bring some comfort to families afflicted with this strange condition." —Malachy McCourt, author, A Monk Swimming: A Memoir

"For more than a century, the prevalence of schizophrenia in Ireland was among the highest in the world. Patrick Tracey's important and engaging book describes his search to understand why, and the effects the disease has had on his own Irish-American family." —E. Fuller Torrey, M.D., coauthor, The Invisible Plague: The Rise of Mental Illness from 1790 to the Present:

"With courage, humor, and rare insight through the tangles of history, biology, and culture, Tracey tracks that ghost in the brain, which is always ready in any generation to randomly strike his family down. This book is an original. Pick it up and you won't be able to put it down."—Shane Connaughton, screenwriter, My Left Foot and author, A Border Station

"With heartbreaking candor and poetic vision, Tracey recounts a spiritual and scientific pilgrimage that will resonate for all siblings who have witnessed a brother's or sister's descent into madness."—Jeanne Safer, Ph.D., author of The Normal One: Life with a Difficult or Damaged Sibling

"Be prepared to put all else aside: this is a fascinating descent into the dark soul of madness. Tracey's brave and compelling search for his family's psychological origins swept me up like a literary thriller."—Terri Cheney, author of Manic: A Memoir

"Stalking Irish Madness is obviously a must-read for families, especially Irish families, that have been affected by this most severe form of mental illness…. The fragile, human story at its core is beautiful and devastating."–Minneapolis Star-Tribune

"[T]his book helps to dispel misconceptions about schizophrenia and reveals the various attempts by experts to make sense of this mental illness." —Publishers Weekly

"A brilliant meditation on Irish people's vexed relationship with the mind and its matters."–Irish Voice