Street Shadows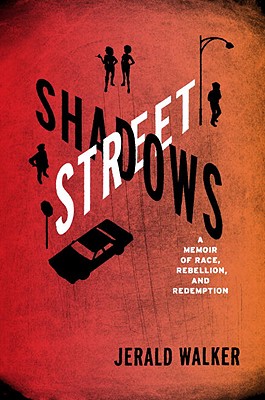 Street Shadows
A Memoir of Race, Rebellion, and Redemption
Bantam, Hardcover, 9780553807554, 256pp.
Publication Date: January 26, 2010
* Individual store prices may vary.
Buy at Local Store
Enter your zip code below to purchase from an indie close to you.
or
Not Currently Available for Direct Purchase
Description
Masterfully told, marked by irony and humor as well as outrage and a barely contained sadness, Jerald Walker's Street Shadows is the story of a young man's descent into the "thug life" and the wake-up call that led to his finding himself again.

Walker was born in a Chicago housing project and raised, along with his six brothers and sisters, by blind parents of modest means but middle-class aspirations. A boy of great promise whose parents and teachers saw success in his future, he seemed destined to fulfill their hopes. But by age fourteen, like so many of his friends, he found himself drawn to the streets. By age seventeen he was a school dropout, a drug addict, and a gangbanger, his life spiraling toward the violent and premature end all too familiar to African American males.

And then came the blast of gunfire that changed everything: His coke-dealing friend Greg was shot to death—less than an hour after Walker scored a gram from him. "Twenty-five years later, tossing the drug out the window is still the second most difficult thing I've ever done. The most difficult thing is still that I didn't follow it."

So begins the story, told in alternating time frames, of the journey that Walker took to become the man he is today—a husband, father, teacher, and writer. But his struggle to escape the long shadows of the streets was not easy. There were racial stereotypes to overcome—his own as well as those of the very white world he found himself in—and a hard grappling with the meaning of race that came to an unexpected climax on a trip to Africa.

An eloquent account of how the past shadows but need not determine the present, Street Shadows is the opposite of a victim narrative. Walker casts no blame (except upon himself), sheds no tears (except for those who have not shared his good fortune), and refuses the temptations of self-pity and self-exoneration. In the end, what Jerald Walker has written is a stirring portrait of two Americas—one hopeless, the other inspirational—embodied within one man.   
 
About the Author
Jerald Walker is an associate professor of English at Bridgewater State College. Married and the father of two young sons, he lives in Bridgewater, Massachusetts. His work has appeared in The Best American Essays (2007 and 2009), Best African American Essays (2009 and 2010), the anthology Brothers: "26 Stories of Love and Rivalry, The Chronicle of Higher Education, The Missouri Review, The Iowa Review," and "Mother Jones," for which he profiled Chicago's South Side.
Praise For Street Shadows…
"What a powerful read. From the very first sentence we begin this incredible journey with this young man into himself...and the world around him. We laugh, we certainly tighten up at times, we hope and we do indeed cheer for a happy ending. I feel as if I know Jerald Walker not just through his words but through his heart. This is a must read for everyone who cares about the questions and the quest that being a human requires."—Nikki Giovanni
 
"A daring, evocative, and unflinchingly honest memoir by an extraordinary writer with an extraordinary story to tell. On the basis of this impressive literary debut, I predict that we'll be reading Jerald Walker for years to come."—Robert Atwan, Series Editor, The Best American Essays

"What makes Street Shadows so riveting is that it shows the struggle between good faith and bad faith playing out within a single human heart. The same faithless man who steals an old lady's groceries then finds the faith to return them. Always this inner wrestling, which also resonates on the level of race. Mr. Walker's struggle for faith is also the struggle of the black inner city he depicts. And there are no excuses in this brave book. It is a watershed—perhaps "post-racial"—memoir because it lets us see a black man as Everyman, a man on his way in the world and uninterested in the consolations of blame."—Shelby Steele, author of The Content of Our Character

"This is a subtle piece of work, hard to capture in a few words, a pleasure. It is an experiment in finding the point of equilibrium where the self can emerge as the dispassionate and compassionate interpreter of experience. Walker never fails to be honest where truth is needed and he never fails to be gracious where generosity is possible."—Marilynne Robinson, author of Gilead and Home

"Street Shadows  is  a powerful  memoir  narrated  through colorful and  moving  stories.  The movement of the memoir traces the narrator's  life  through  delinquency,  drug  use, family  tensions and  family  tragedies and adds real emotional muscle to the voice.—James Alan McPherson, author of Elbow Room