Lost in Yonkers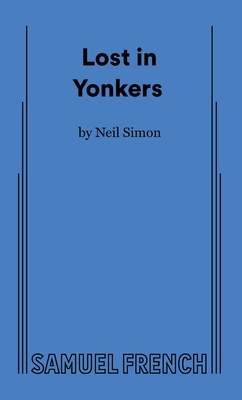 Lost in Yonkers
Samuel French, Inc., Paperback, 9780573693366, 114pp.
Publication Date: June 23, 2010
* Individual store prices may vary.
Buy Now
or
Shop Local
Enter your zip code below to purchase from an indie close to you.
Description
Full Length, Comic Drama



4 m, 3 f



Int.



Winner of the 1991 Pulitzer Prize and Tony Award



By America's great comic playwright, this memory play is set in a Yonkers in 1942. The hit Broadway production featured Irene Worth, Mercedes Ruehl and Kevin Spacey in award-winning performances. Bella, is 35-years-old, mentally challenged and living at home with her mother, stern Grandma Kurnitz . As the play opens, ne'r do-well son Eddie deposits his two young sons on the old lady's doorstep. He is financially strapped and taking to the road as a salesman. The boys are left to contend with Grandma, with Bella and her secret romance, and with Louie, her brother, a small-time hood in a strange new world called Yonkers.
About the Author
America's most prolific and beloved playwright, Neil Simon is the author of more than two dozen plays and screenplays. In 1990, he was awarded the Pulitzer Prize. He is also the winner of three Tony Awards. Simon splits his time between New York and Los Angeles.
Praise For Lost in Yonkers…
"The best play Simon ever wrote."-New York Post



"Broadway desperately needs a comedy, a drama, and a hit. With Lost in Yonkers, Mr. Simon has given us all three."-Wall Street Journal



"One of Simon's most impressive and funniest plays."-New York Daily News



"Laughter and tears have come together in a new emotional truth. There are moments in this play when you experience a new kind of laughter for Simon, a silent laughter that doesn't explode into a yuk but implodes straight into your heart."- Newsweek