A Christmas Gift for Mama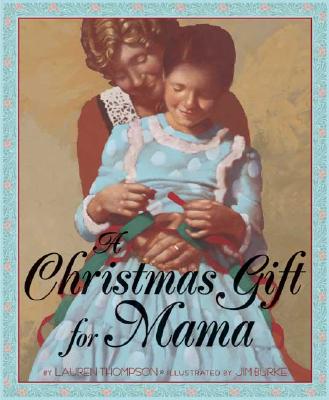 A Christmas Gift for Mama
Scholastic Press, Hardcover, 9780590307253, 48pp.
Publication Date: October 1, 2003
* Individual store prices may vary.
Buy at Local Store
Enter your zip code below to purchase from an indie close to you.
or
Not Currently Available for Direct Purchase
Description
A heartwarming holiday story that has special meaning in today's world.
Winter has come early to the city, and by the time Christmas week arrives, Grace and her mother feel as if the cold wind will never stop blowing. Times are hard for everyone this year, but especially so for Grace and her mother, since Grace's father died the spring before. Christmas was always a time of cheer and celebration before Papa died, but this year, in their cold, small apartment, and with Mama working long hours for a seamstress, Christmas has lost its magic.
About the Author
Lauren Thompson is the author of several picture books, including the popular Mouse's First series, Little Quack series, and the Wee Little series. She is also the author of the critically acclaimed "The Apple Pie That Papa Baked" as well as "Leap Back Home to Me"; "Chew, Chew, Gulp!"; and "Hop, Hop, Jump!" She lives with her husband and son in Brooklyn, New York.



Jim Burke is the author of the Heinemann title What's the Big Idea? The question he's always tried to answer is "How can we teach our students better?" He began this search in his own classroom at Burlingame High School in California, where he still teaches. He shares his experiences there in bestselling professional titles with Heinemann such as The English Teacher's Companion; Reading Reminders; and Writing Reminders as well as through Heinemann Professional Development Services. Looking to his peers for still more answers, he founded the English Companion Ning, described by Education Week as "the world's largest English department." Jim continues to find and support best practices in many other ways, including serving on national commissions related to adolescent literacy and standards, such as the Advanced Placement English Literature and Language Course and Exam Review Commission with the College Board, and by being a senior author on the Holt McDougal Harcourt Literature series. Jim has received numerous awards, including the NCTE Intellectual Freedom Award, the NCTE Conference on English Leadership Award, and the California Reading Association Hall of Fame Award. He served on the National Board for Professional Teaching Standards Committee on Adolescence and Young Adulthood English Language Arts Standards and recently worked with ACT on their high school English Language Arts standards. In 2007, he participated in the national Adolescent Literacy Coalition roundtable and worked with the Partnership for 21st Century Skills. Visit his website (www.englishcompanion.com) for more information.