Daja's Book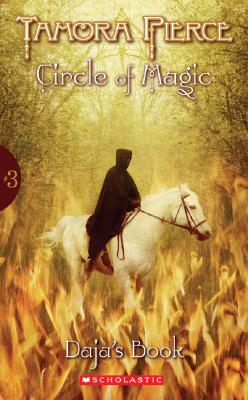 Daja's Book
Scholastic, Mass Market Paperbound, 9780590554107, 232pp.
Publication Date: March 2000
* Individual store prices may vary.
Shop Local
Enter your zip code below to find indies closest to you.
Description
Part of the 8-book Tamora Pierce reissue for Fall 2006, this title in the Circle of Magic quartet features spellbinding new cover art. Coincides with the release of WILL OF THE EMPRESS in trade pb.

Four elements of power, four mages-in-training learning to control them. In Book 3 of the Circle of Magic Quartet, outcast Trader Daja and her friends journey from Winding Circle to the Gold Ridge Mountains, where drought threatens widespread famine. There, Daja creates an astonishing object: a living metal vine. A caravan of Traders covets the vine, and Daja's dealing with her former people reawaken a longing for familiar ways. Now Daja must choose--should she return to the Traders or remain with the Winding Circle folk who have become her family?
About the Author
Beloved author Tamora Pierce has written a great number of books, including The Song of the Lioness quartet, The Immortals quartet, The Circle of Magic quartet, The Protector of the Small quartet, The Circle Opens quartet, the Trickster series, "The Will of" "the Empress", "Melting Stones", and the Beka Cooper series. She lives in New York and can be visited at TamoraPierce.com.