Stop Teaching Our Kids to Kill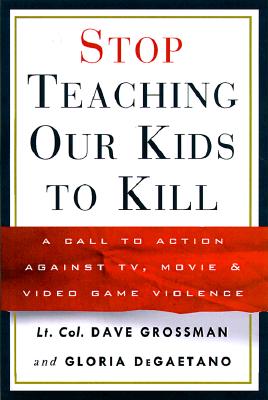 Stop Teaching Our Kids to Kill
A Call to Action Against TV, Movie & Video Game Violence
Harmony, Hardcover, 9780609606131, 208pp.
Publication Date: October 5, 1999
* Individual store prices may vary.
Buy at Local Store
Enter your zip code below to purchase from an indie close to you.
or
Not Currently Available for Direct Purchase
Description
There is perhaps no bigger or more important issue in America at present than youth violence. Columbine, Sandy Hook, Aurora: We know them all too well, and for all the wrong reasons: kids, some as young as eleven years old, taking up arms and, with deadly, frightening accuracy, murdering anyone in their paths. What is going on? According to the authors of Stop Teaching Our Kids to Kill, there is blame to be laid right at the feet of the makers of violent video games (called "murder trainers" by one expert), the TV networks, and the Hollywood movie studios--the people responsible for the fact that children witness literally thousands of violent images a day.
Authors Lt. Col. Dave Grossman and Gloria DeGaetano offer incontrovertible evidence, much of it based on recent major scientific studies and empirical research, that movies, TV, and video games are not just conditioning children to be violent--and unaware of the consequences of that violence--but are teaching the very mechanics of killing. Their book is a much-needed call to action for every parent, teacher, and citizen to help our children and stop the wave of killing and violence gripping America's youth. And, most important, it is a blueprint for us all on how that can be achieved.
In Paducah, Kentucky, Michael Carneal, a fourteen-year-old boy who stole a gun from a neighbor's house, brought it to school and fired eight shots at a student prayer group as they were breaking up. Prior to this event, he had never shot a real gun before. Of the eight shots he fired, he had eight hits on eight different kids. Five were head shots, the other three upper torso. The result was three dead, one paralyzed for life. The FBI says that the average, experienced, qualified law enforcement officer, in the average shootout, at an average range of seven yards, hits with less than one bullet in five. How does a child acquire such killing ability? What would lead him to go out and commit such a horrific act?
About the Author
David Grossman is the author of six novels, most recently "Someone to Run With" (2004); two works of journalism, "The Yellow Wind" (1988) and "Sleeping on a Wire" (1993); and a volume of collected commentary, "Death as a Way of Life" (2003). He lives in Jerusalem.

Lt. Col. Dave Grossman is an internationally recognized scholar, author, soldier, and speaker who is one of the world's foremost experts in the field of human aggression and the roots of violence and violent crime. Col. Grossman is a West Point psychology professor, Professor of Military Science, and an Army Ranger who specializes in the study of combat human factors. In this new field Col. Grossman has made revolutionary new contributions to our understanding of killing in war, the psychological costs of war, the root causes of the current "virus" of violent crime that is raging around the world, and the process of healing the victims of violence, in war and peace.

Gloria DeGaetano is the founder of the Parent Coaching Institute and the author of "Screen Smarts: A Family Guide to Media Literacy" and "Stop Teaching Our Kids to Kill: A Call to Action Against TV, Movie, and Video Game Violence," She lives in Bellevue, Washington. Diane Dreher, Ph.D., is the author of "The Tao of Personal Leadership" and associate dean of arts and sciences at Santa Clara University.

Praise For Stop Teaching Our Kids to Kill…
The goal of this book is to make people aware of what the prolific use of violence in television, movies, and video games is doing to our children. Teaching Our Kids to Kill calls to the table the makers of this violence to address the myriad scientific research on the subject--research that couldn't make it clearer how solid and deadly the link is between this kind of graphic imagery and the escalating incidences of youth violence--and understand and change what they are doing and the dangerous effects their products are having on our children.
Using this book, parents, educators, social service workers, youth advocates, and anyone interested in the welfare of our children will have a solid foundation for effective action. We give you the facts--what's behind the statistics, how to interpret the copious, empirical research that exists on the subject, and the many ways to make a difference in your own home, at school, in your community, in the courts, and in the larger world--so that we all can work together to help end this problem and create a safer environment in which to live. If by doing this we can prevent future Paducahs, Jonesboros, and Littletons, it will be well worth it.

Lt. Col. Dave Grossman
Gloria DeGaetano