The Art of Resilience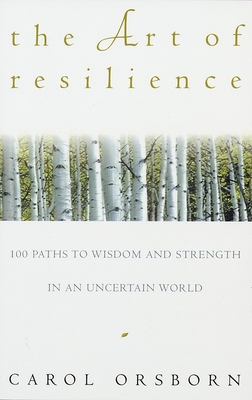 The Art of Resilience
One Hundred Paths to Wisdom and Strength in an Uncertain World
Harmony, Paperback, 9780609800614, 300pp.
Publication Date: June 2, 1997
* Individual store prices may vary.
Buy Now
or
Shop Local
Enter your zip code below to purchase from an indie close to you.
Description
Life is a tricky, often difficult journey, so few qualities are more important to our health and peace of mind than resilience of spirit. Carol Orsborn, an internationally recognized businesswoman, theologian, and motivational speaker, has created an inspiring guide to one hundred different ways to find wisdom and strength in an uncertain world. Her stories, anecdotes, and practical advice--inspired by the teachings of spiritual masters from both Eastern and Western traditions--are guaranteed to help anyone learn to rebound gracefully and productively when up against forces that are beyond our control. Each practical tip, each seed of wisdom, is encased in a one- or two-page story that's touching or humorous or thought provoking.

The Art of Resilience is for anyone who has ever felt overwhelmed by disappointment, illness, or loss. It is a book that offers hope and comfort and reminds us, in ways both large and small, that we must move through and beyond disappointment to find our God-given capacity for love and joy.
About the Author
Carol Orsborn, Ph.D., is founder and editor-in-chief of "Fierce with Age: The Digest of Boomer Wisdom", "Inspiration, and Spirituality". The author of more than 20 books for and about the Boomer generation as well as popular blogs on Huffington Post, PBS s NextAvenue.net, and BeliefNet.com, she has served on the faculties of Georgetown University, Loyola Marymount University, and Pepperdine University. She lives with her husband in Madison, Tennessee.