Time Management for the Creative Person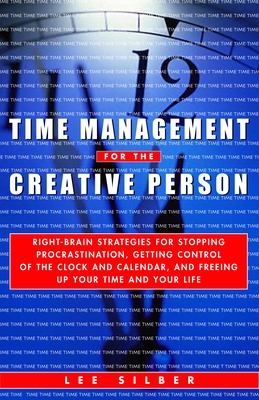 Time Management for the Creative Person
Right-Brain Strategies for Stopping Procrastination, Getting Control of the Clock and Calendar, and Freeing U
Crown Business, Paperback, 9780609800904, 304pp.
Publication Date: March 24, 1998
* Individual store prices may vary.
Shop Local
Enter your zip code below to find indies closest to you.
Description
Creative folks often know all too well that the muse doesn t always strike when you want it to, or when the deadline for your next brilliant project is creeping up on you like an ill-fitting turtleneck. Originality doesn t follow a time clock, even when you have to. While conventional time management books offer tons of instruction for using time wisely, they are traditionally organized in a linear fashion, which just isn t helpful for the right-brain mind. In Time Management for the Creative Person, creativity guru Lee Silber offers real advice for using the strengths of artistic folks like originality and resourcefulness to adopt innovative time-saving solutions, such as:
* Learning to say no when your plate is just too full
* How to know when a good job, not a great one, is good enough
* Making to do lists that include fun stuff, too that way you won t feel overwhelmed by work
* Time-saving techniques around the house that give you more time to get your work done and more time to spend with your loved ones
* The keys to clutter control that will keep your work space and your living space neat
With these and lots of other practical tips, Lee Silber will help anyone, from the time-starved caterer rushing to prepare for her next party to the preoccupied painter who forgets when the electric bill is due, make the most of their time and turn the clock and the calendar into friends, not foes.
About the Author
Before becoming the best-selling author of 20 books, Lee Silber lived an interesting life. He was a surf shop owner, pen salesman, graphic artist, corporate trainer, keynote speaker, and marketing consultant. What he had was success in a number of areas; what he lacked, gratefully, was ever hitting rock bottom. So, to write The Homeless Hero, Silber knew he needed to discover what it was truly like to live on the streets-and that he did. It was both terrifying and enlightening at the same time. He survived, however, and currently lives comfortably with his wife and two young sons in Mission Beach, California. To read more about how Lee lived on the streets to research this book and how he is now giving back to help the homeless, go to www.LeeSilber.com.