The Art of Practicing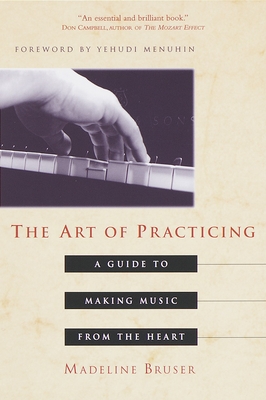 The Art of Practicing
A Guide to Making Music from the Heart
Three Rivers Press (CA), Paperback, 9780609801772, 288pp.
Publication Date: February 2, 1999
* Individual store prices may vary.
Buy at Local Store
Enter your zip code below to purchase from an indie close to you.
or
Buy Here
Description
This landmark book enlightens amateur and professional musicians about a way of practicing that transforms a sometimes frustrating, monotonous, and overly strenuous labor into an exhilarating and rewarding experience. Acclaimed pianist and teacher Madeline Bruser combines physiological and meditative principles to help musicians release physical and mental tension and unleash their innate musical talent. She offers practical techniques for cultivating free and natural movement, a keen enjoyment of sounds and sensations, a clear and relaxed mind, and an open heart and she explains how to Prepare the body and mind to practice with ease
Understand the effect of posture on flexibility and expressiveness
Make efficient use of the hands and arms
Employ listening techniques to improve coordination
Increase the range of color and dynamics by using less effort
Cultivate rhythmic vitality
Perform with confidence, warmth, and freedom Photographs show essential points of posture and movement for a variety of instruments.
About the Author
Madeline Bruser lectures widely on the Art of Practicing and teaches privately in New York City.
Praise For The Art of Practicing…
"Madeline Bruser has put together a valuable and insightful look at the art of practicing. If more people read this this book, perhaps we might see an increase in the number of inspired and joyful music makers who, rather than viewing practice as a punitive activity, regard it as the supreme opportunity to explore their own creativity."
American Music Teacher

"An essential and brilliant book. Madeline Bruser gives us insight, wisdom, and tremendous practicality."
--Don Campbell, author of The Mozart Effect

"I've often thought of practice as playing--in the stretching, somersault, skipping, serenely special sense of the word--and The Art of Practicing reaffirms that. It gently and joyfully reminds us of the beautiful reasons we love music and become musicians in the first place."
--Richard Stoltzman, clarinetist

"The attitude and approach presented in this book ring true and can inspire us to open up to music with stimulated imagination and inquisitiveness and to play from the heart every time we sit down to play. I recommend this book and its ideas very highly."
--Peter Serkin, pianist

"An excellent sourcebook for musicians...logical, well thought-out, and clearly written, as well as medically tenable...thoughtful, sensitive, and very practical."
--Alice G. Brandfonbrenner, M.D., founding director Medical Program for Performing Artists, Rehabilitation Institute of Chicago, editor, Medical Problems of Performing Artists

"This is a book to read and read again, whether you are a performing musician or a serious listener."
The Washington Times
"Give this book to any musician you love and to any person who loves what music does for them and for the world. "                                                   --Richard Stoltzman, clarinetist

"Luminous and inspiring. "      
--Paula Robison, flutist