God at the Edge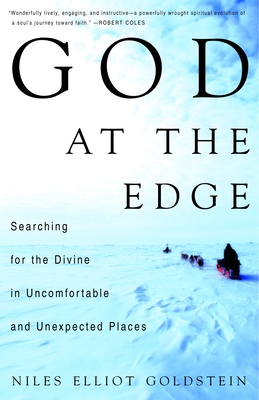 God at the Edge
Searching for the Divine in Uncomfortable and Unexpected Places
Bell Tower Book, Paperback, 9780609804889, 224pp.
Publication Date: April 24, 2001
* Individual store prices may vary.
Buy at Local Store
Enter your zip code below to purchase from an indie close to you.
or
Buy Here
Description
Here is a book about adventure, raw experience, and facing inner demons. Niles Elliot Goldstein is a young rabbi who sets out to find God in tough and often scary situations: dogsledding above the Arctic Circle, taking the Silk Road into Central Asia without a visa, being chased by a grizzly bear, cruising with DEA agents through the South Bronx, and spending a night in jail in New York City's Tombs. He explores the connections between struggle and growth, fear and transcendence, and uncertainty and faith, seeking the boundary where the finite meets the Infinite.

Goldstein is not alone in making this kind of pilgrimage. There has always been a strong tradition of seekers who looked for revelation outside conventional religious settings and encountered God in moments of anguish, terror, and pain. Goldstein juxtaposes his own experiences with those of some of the great historical figures of Judaism and Christianity -- Jonah and St. John of the Cross, Moses Maimonides and Julian of Norwich, Nachman of Bratslav and Martin Luther -- as well as lesser known mystics and preachers, and he discovers, as they did, that it can sometimes take a journey to the edge to recognize God's presence in our lives.
About the Author
Niles Elliot Goldstein is the founding rabbi of The New Shul in Greenwich Village, New York City, a program officer/educator at the Jewish Life Network, and an associate of CLAL: the National Jewish Center for Learning and Leadership. He has written for Newsweek magazine, is the voice behind "Ask the Rabbi" for Microsoft, and is the National Jewish Chaplain for the Federal Law Enforcement Officers Association. He is the author or editor of three other books. Goldstein lives in Brooklyn, New York.
Praise For God at the Edge…
"Wonderfully lively, engaging, and instructive -- a powerfully wrought spiritual evolution of a soul's journey toward faith narrated personally and tellingly."
-- Robert Coles, Pulitzer Prize-winner

"With engaging and absolute honesty, Goldstein tells the story of his arduous search for faith and writes with clarity, empathy, and insight about the Christian and Jewish mystics whose quest for enlightenment he himself so movingly emulates. He is a clear-eyed and intelligent seeker who knows that men and women find God in the shadow as often as in the light, in pain as much as in ecstasy."
-- Derek Lundy, author of Godforsaken Sea: Around the Globe        Alone Through the World's Most Dangerous Waters

"This is a book for a new generation of seekers, a book that is not afraid to venture into the darker dimensions of the spiritual life. Few today dare to tread where Goldstein has."
-- Rabbi Irving Greenberg, president, Jewish Life Network

"Real life is messy. Most books on spirituality try to clean it up or cover it up. This one is different. Goldstein takes us into the heart of the raw and savage moments of life and provides a much needed balance to the all too often pollyannaish pretensions of contemporary American spirituality."
-- Rabbi Rami M. Shapiro,        author of Minyan: Ten Principles for Living a Life of Integrity

"In this spiritual journey, real travels, vividly reported, are paired with lives and thoughts of religious figures, classical and marginal, to provoke the reader to think about what might constitute a vibrant religious life today."
-- Wayne Proudfoot, professor of religion, Columbia University