Tricks with Your Head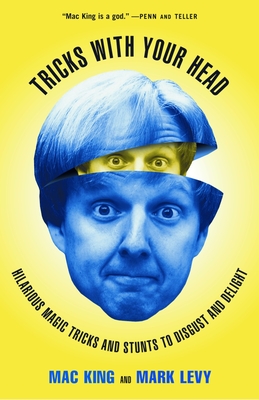 Tricks with Your Head
Hilarious Magic Tricks and Stunts to Disgust and Delight
Three Rivers Press (CA), Paperback, 9780609805916, 208pp.
Publication Date: February 26, 2002
* Individual store prices may vary.
Shop Local
Enter your zip code below to find indies closest to you.
Description
"Mac King is a god." —Penn and Teller

Tricks with Your Head is the world's greatest (and only) collection of hilarious, mystifying, and sometimes repulsive magic tricks that you can perform with your very own head.

If you've only thought of your head as a receptacle for so-called higher learning, or as a structure for keeping your haircut from falling into your body cavity, rejoice! Now you can use that ten-pound meatball between your shoulders as a source of ribald entertainment. Best of all, when you learn to perform a head trick, you can never be caught without your prop.

Mac King and Mark Levy have perfected the ultimate mix of head games (literally) in this clever illustrated volume that teaches you how to:
* Make your head disappear
* Penetrate your skull with a drinking straw
* Make a french fry vanish up your nose
* Read someone's mind
* Jab a fork in your eye
About the Author
Mac King used to perform 220 days a year, bringing his unique mixture of comedy and magic to audiences around the United States. Today, he has a steady gig at Harrah's Casino and Hotel in Las Vegas, Nevada, where he performs to sell-out crowds four days a week. In addition, he writes the syndicated "Magic in a Minute" comic strip, illustrated by his cousin, Bill King, and designs unique tricks and props for the toy company Fundex. King is also the author of the best-selling "Magic in a" "Minute Super-Duper Suitcase O' Magic" and "Magic in a Minute Big Ol' Book O' Magic". King lives with his family in Las Vegas.
JOEL BAUER is one of the most sought-after public speakers in America, addressing some 200 audiences each year. His clients include such organizations as 3M, Canon, General Motors, IBM, Intel, Mitsubishi, Motorola, Panasonic, and Philips. The Wall Street Journal Online has referred to him as "undoubtedly the chairman of the board" of corporate tradeshow rainmaking.
MARK LEVY is the founder of Levy Innovation, a marketing strategy firm that makes people and companies compelling. He has also written or co-created four books, including Accidental Genius: Revolutionize Your Thinking Through Private Writing, which has been translated into five languages.