The 267 Stupidest Things Republicans Ever Said/The 267 Stupidest Things Democrats Ever Said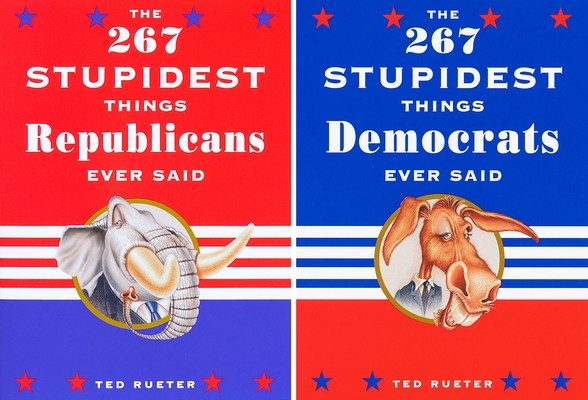 The 267 Stupidest Things Republicans Ever Said/The 267 Stupidest Things Democrats Ever Said
Three Rivers Press (CA), Paperback, 9780609806357, 128pp.
Publication Date: June 13, 2000
* Individual store prices may vary.
Buy at Local Store
Enter your zip code below to purchase from an indie close to you.
or
Not Currently Available for Direct Purchase
Description
A hilarious bipartisan collection of rants, malapropisms, doublespeak, and just plain idiocy from lifelong politicians and Washington wannabes.

Whether it's a Republican mayor on crime -- "The streets are safe in Philadelphia. It's only the people who make them unsafe (Frank Rizzo) -- or his Democratic counterpart on the same subject -- "Outside of the killings, Washington has one of the lowest crime rates in the country" (Marion Barry) -- political discourse is often off-course, not to mention unintentionally hilarious.

Wickedly funny when read from either direction, this book presents both Republican stupidity ("Approximately 80 percent of our air pollution stems from vegetation"-- Ronald Reagan) and matching head-slappers from Democrats ("For those who died [in the San Francisco earthquake], their lives will never be the same again" -- Barbara Boxer).

The 267 Stupidest Things . . is the perfect antidote to election-year bombast.
About the Author
Ted Rueter is a self-described political junkie and a professor of political science at Tulane University in New Orleans. He is the author of eight books and has written for the "New York Times, USA Today", the "Los Angeles Times", and the "Christian Science Monitor". He earned a Ph.D. from the University of Wisconsin-Madison and has taught at Middlebury College, Georgetown University, Smith College, and UCLA. He is the founder of Noise Free America (Noisefree.org). His Web site is DrPolitics.com.