Owls Aren't Wise & Bats Aren't Blind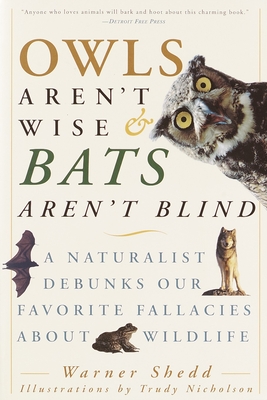 Owls Aren't Wise & Bats Aren't Blind
A Naturalist Debunks Our Favorite Fallacies about Wildlife
Broadway Books, Paperback, 9780609807972, 336pp.
Publication Date: July 31, 2001
* Individual store prices may vary.
Buy Now
or
Shop Local
Enter your zip code below to purchase from an indie close to you.
Description
Have you ever seen a flying squirrel flapping through the air, watched a beaver carrying a load of mud on its tail, or ducked when a porcupine started throwing its quills? Probably not, says Warner Shedd, debunking these and many more popular myths about our animal friends in Owls Aren't Wise & Bats Aren't Blind. In this charming and eminently readable biology lesson, Warner Shedd, former regional executive for the National Wildlife Federation, offers scientific evidence that refutes many of the most tenacious and persevering folklore about wild animals. Full of humorous anecdotes and fascinating facts about more than thirty North American species, Owls Aren't Wise & Bats Aren't Blind is an entertaining dose of scientific reality for any nature enthusiast or armchair adventurer.
About the Author
WARNER SHEDD is the director of the New Hampshire Wildlife Federation and a former executive for the National Wildlife Federation, the nation's largest private conservation organization. His articles have appeared in "Sports Afield," "Vermont Life," "Outdoor Life," "Field and Stream," and other publications. He lives in Vermont.
"From the Hardcover edition."
Nicholson has had a passion for photographing animals since the age of seven. She has competed in and judged equestrian events for many years and is involved with the breeding and training of horses and dogs.
Praise For Owls Aren't Wise & Bats Aren't Blind…
"Crammed with scientifically impeccable detail about both familiar and mysterious beasts and birds. Anyone with a yen for understanding the fauna of the neighborhood and beyond will find delights here."
-- Michael Pakenham, Baltimore Sun

"Consider Owls Aren't Wise & Bats Aren't Blind a must-have if you intend to wander about outdoors this summer . . ."
-- Marta Salij, Chicago Tribune

"Anyone who loves animals will bark and hoot about this charming book."
-- Detroit Free Press

"Wildlife myths are fun, but Warner Shedd uses the skills and experience of a trained naturalist to make the facts even more fascinating. This will find a place alongside treasured field guides on the bookshelves of wildlife enthusiasts everywhere."
-- Patrick Leahy, Vermont State Senator