The Cultural Creatives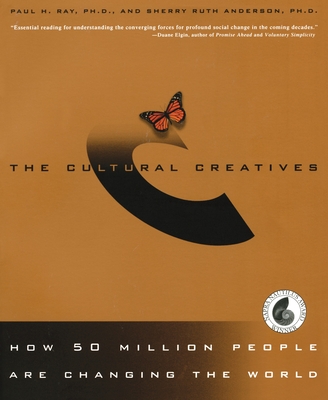 The Cultural Creatives
How 50 Million People Are Changing the World
Broadway Books, Paperback, 9780609808450, 384pp.
Publication Date: October 2, 2001
* Individual store prices may vary.
Buy at Local Store
Enter your zip code below to purchase from an indie close to you.
or
Buy Here
Description
ARE YOU A CULTURAL CREATIVE?
Do you dislike all the emphasis in modern culture on success and making it, on getting and spending, on wealth and luxury goods?
Do you care deeply about the destruction of the environment and would pay higher taxes or prices to clean it up and to stop global warming?
Are you unhappy with both the left and the right in politics and want to find a new way that does not simply steer a middle course?
In this landmark book, sociologist Paul H. Ray and psychologist Sherry Ruth Anderson draw upon thirteen years of survey research studies on more than 100,000 Americans. They reveal who the Cultural Creatives are and the fascinating story of their emergence over the last generation, using vivid examples and engaging personal stories to describe their distinctive values and lifestyles. The Cultural Creatives offers a more hopeful future and prepares us all for a transition to a new, saner, and wiser culture.
About the Author
Ray received his BA from Yale University and his Ph.D. in Sociology from the University of Michigan. Currently, he is the Executive Vice President of American LIVES, Inc., a market research and opinion polling firm specializing in surveys based on the lifestyles, and values of Americans. He h as headed over 100 major search and consulting projects, and has been published numerous time in the Noetic Sciences Review and American Demographics.

Sherry Ruth Anderson writes and teaches about spiritual development, with a special interest in women's experience and aging as awakening. Her books include "The Feminine Face of God" and "The Cultural Creatives," and her recent documentary is "A Woman's Descent to the Sacred." She lives in Novato, California.

Ruth Anderson is the coauthor of Puyallup, Pioneer Paradise. She worked with Hans Zeiger, Sarah Beals, and members of the historical societies of Puyallup, Orting, Sumner, and South Hill, along with the staffs of the Puyallup Public Library and Karshner Museum, and families to produce this book.