The Food Allergy Cure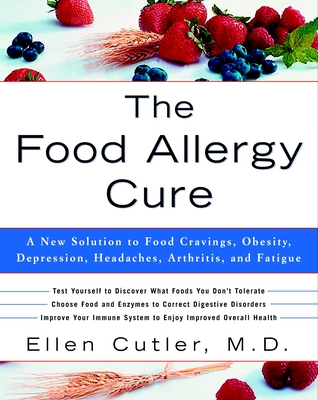 The Food Allergy Cure
A New Solution to Food Cravings, Obesity, Depression, Headaches, Arthritis, and Fatigue
Harmony, Paperback, 9780609809006, 354pp.
Publication Date: April 22, 2003
* Individual store prices may vary.
Buy at Local Store
Enter your zip code below to purchase from an indie close to you.
or
Buy Here
Description
FULLY REVISED AND UPDATED PAPERBACK EDITION.
ELIMINATE YOUR FOOD SENSITIVITIES--ONCE AND FOR ALL.
If you are one of the nearly 90 million people (about one-third of the American population) who are forced to avoid certain foods, then you may have experienced one or several of the myriad of symptoms associated with food allergies, including sinusitis, chronic heartburn, asthma, chronic fatigue, and gastrointestinal distress. Relief from these conditions can now be found in Dr. Ellen Cutler's revolutionary program, known as BioSET(TM). The Food Allergy Cure outlines this technique and will help you to combat your food allergies at their root. Combining muscle testing, detoxification techniques, and enzyme and diet therapies, The Food Allergy Cure will help sufferers to:
- Identify and alleviate specific food sensitivities immediately, with quick and easy methods
- Discover how to detoxify your body
- Find the most effective means of eliminating food sensitivities, safely and quickly
- Use a self-diagnostic questionnaire to determine which enzymes will contribute to your optimum health
Using a combination of Eastern and Western medicines, The Food Allergy Cure offers a program that is easy to implement, does not depend on drugs or expensive procedures, and is an invaluable resource for longtime food-allergy sufferers.
About the Author
Ellen W. Cutler, M.D., is the nation's leading authority on enzyme therapy and founder of BioSET, an innovative healing system that combines the use of enzyme supplements with other complementary medicine disciplines to treat a variety of chronic illnesses and achieve optimum health. Author of "The Food Allergy Cure," among other books, Dr. Cutler resides in Marin County, California.

Praise For The Food Allergy Cure…
"After thirty years of allergy practice, I have finally found a solution to food allergies. Dr. Ellen Cutler's BioSET? protocol is safe and effective. It has become a mainstay of my allergy practice."
-- Roy Kerry, M.D., director of the Ear, Nose, Throat, and Allergy Associates, P.C., in Greenville, PA

"The Food Allergy Cure should be read by every mother with children, by every person with chronic disease. Dr. Ellen Cutler is one of the leading experts in alternative allergy therapy and has pioneered a solution for allergies that is much more effective than anything else I know."
-- Roy Martina, M.D., host of Fox TV's Supervitality and the author of twenty-four books on health, vitality, and well-being

"Nearly every chronic health problem, including asthma, eczema, arthritis, and headaches, is associated with unrecognized food allergies. Thanks to Dr. Cutler's revolutionary techniques, many patients have virtually eliminated their need for medications."
-- Sherri Tenpenny, M.D., founder and president of OsteoMed II, an Integrative Medicine clinic, and host of nationally syndicated radio program "Health Matters, Exploring the Controversies in Health Care"

"Dr. Ellen Cutler's innovative use of natural health care cures colds, flus, coughs, food allergies, headaches, upset tummies, and more. Dr. Cutler has helped me and my family tremendously. I value her work highly."
-- John Gray, Ph.D., bestselling author and patient

"Dr. Ellen Cutler is offering the world a unique system of allergy elimination that gives health where there has been illness and discomfort. Most beneficial, Dr. Cutler has shared her knowledge by training me to treat myself and my family so we are able to maintain well-being on our own. She has tremendous wisdom and intuitive diagnostic capacity. I am a grateful believer!"
-- Deborah Santana, longtime patient of Dr. Cutler