Genghis Khan and the Making of the Modern World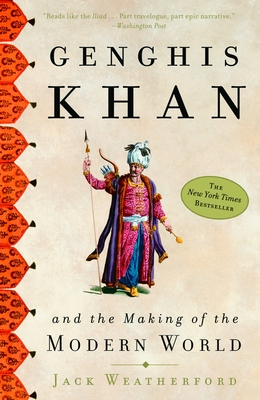 Genghis Khan and the Making of the Modern World
Three Rivers Press (CA), Paperback, 9780609809648, 312pp.
Publication Date: March 22, 2005
* Individual store prices may vary.
Buy at Local Store
Enter your zip code below to purchase from an indie close to you.
or
Buy Here
Description
The Mongol army led by Genghis Khan subjugated more lands and people in twenty-five years than the Romans did in four hundred. In nearly every country the Mongols conquered, they brought an unprecedented rise in cultural communication, expanded trade, and a blossoming of civilization. Vastly more progressive than his European or Asian counterparts, Genghis Khan abolished torture, granted universal religious freedom, and smashed feudal systems of aristocratic privilege. From the story of his rise through the tribal culture to the explosion of civilization that the Mongol Empire unleashed, this brilliant work of revisionist history is nothing less than the epic story of how the modern world was made.
About the Author
JACK WEATHERFORDis theNew York Timesbestsellingauthor ofGenghis Khan and the Making ofthe Modern World;Indian Givers: Howthe Indians of the AmericasTransformed the World;The Secret History of the Mongol Queens; andThe History of Money, among other acclaimedbooks. A specialist in tribal peoples, he was for manyyears a professor of anthropology at Macalaster College in Minnesota anddivides his time between the USand Mongolia."
Praise For Genghis Khan and the Making of the Modern World…
"There is very little time for reading in my new job. But of the few books I've read, my favourite is Genghis Khan and the Making of the Modern World by Jack Weatherford (Crown Publishers, New York). It's a fascinating book portraying Genghis Khan in a totally new light. It shows that he was a great secular leader, among other things."
—Manmohan Singh, Prime Minister of India

"Reads like the Iliad. . . Part travelogue, part epic narrative."
—Washington Post

"It's hard to think of anyone else who rose from such inauspicious beginnings to something so awesome, except maybe Jesus."
—Harper's

"Weatherford's lively analysis restores the Mongol's reputation, and it takes wonderful learned detours. . . . Well written and full of suprises."
—Kirkus Reviews

"Weatherford is a fantastic storyteller. . . . [His] portrait of Khan is drawn with sufficiently self-complicating depth. . . . Weatherford's account gives a generous view of the Mongol conqueror at his best and worst."
—Minneapolis Star Tribune