Inteligencia Astrologica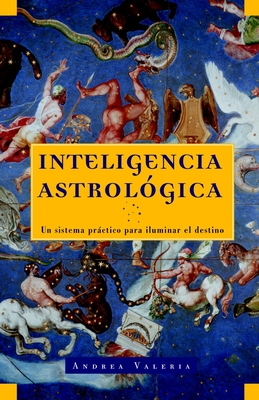 Inteligencia Astrologica
Un Sistema Practico Para Iluminar Tu Destino
Vintage Espanol, Paperback, 9780609810576, 416pp.
Publication Date: May 15, 2001
* Individual store prices may vary.
Shop Local
Enter your zip code below to find indies closest to you.
Description
Create your own destiny in three simple steps!

Andrea Valeria, best-selling author, radio talk-show host, and astrologer, shows you how with this uniquely practical and fun approach to making everyday decisions by using astrology as your personal tool. Using the easy-to-read chart in the front of the book, decode where you are in your decision-making process by matching your astrological sign to the situation you find yourself in: approaching, questioning, strategizing, negotiating, bonding, or building. The chart readily leads you to the word that will help you not only make a decision, but also decipher the most effective way of relating to your friends, lovers, colleagues, family, and so on. Inteligencia Astrológica is a step-by-step guide to successfully making the everyday choices that shape the quality of our lives.

__________

íIlumina tu destino con este sistema práctico y sencillo de auto-ayuda!


Con Inteligencia Astrológica, Andrea Valeria iluminará tu destino con consejos prácticos que te ayudarán a encontrarle salida a cualquier embrollo, distancia a toda dificultad, manera de acercarte a quien quieras y de comenzar a tomar los pasos adecuados para lograr tus propósitos. Además, Inteligencia Astrológica te enseñara cómo puedes aprovechar las características positivas de cada uno de los los otros signos del zodíaco en relación con el tuyo.
Necesitas un aumento de sueldo, ál estrategia debes tomar?
Estás a punto de comprar una casa, ómo le haces para negociar?
ás pensando en mudarte a otra ciudad?
¿Tienes problemas con tu pareja?
¿Sospechas que tu pareja te engaña?
About the Author
Valeria has had a regular radio program in Mexico City, a newspaper column in the Los Angeles Times' Spanish-language weekly.

Sherri Rifkin, a former TV marketing executive, lives in New York City, where she writes for a variety of entertainment and media clients, including Bravo, USA Network and the Style Network. "LoveHampton" is her first novel.
Praise For Inteligencia Astrologica…
"A beautifully executed system from a human point of view."
        -- JOOST ELFFERS, author of The Secret Language of Birthdays
__________

"Un sistema astrológico bellamente ejecutado, desde un punto de vista humanista."
        -- JOOST ELFFERS, autor de El  idioma secreto de los cumpleaños