Keeping Faith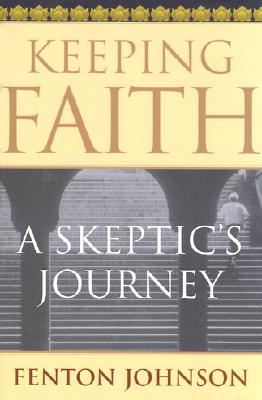 Keeping Faith
A Skeptic's Journey
Houghton Mifflin Harcourt, Hardcover, 9780618004423, 336pp.
Publication Date: April 1, 2003
* Individual store prices may vary.
Not Currently Available for Direct Purchase
or
Shop Local
Enter your zip code below to purchase from an indie close to you.
Description
Observing an encounter between Catholic and Buddhist monks in 1996 at the Abbey of Gethsemani, near where he grew up in rural Kentucky, Fenton Johnson found himself unable to make the sign of the cross. His distance from his childhood faith had become so great -- he considered himself a rational, skeptical man -- that he could not participate in this most basic ritual. Impelled by this troubling experience, Johnson began a search for the meaning of the spiritual life, a journey that took him from Gethsemani to the San Francisco Zen Center, through Buddhism and back to Christianity, from paralyzing doubt to a life-enriching faith.
Keeping Faith explores the depths of what it means for a skeptic to have and to keep faith. Johnson grew up with the Trappist monks, but rejected institutionalized religion as an adult. While living as a member of the Gethsemani community and the Zen Center, however, he learned to practice Christian rituals with a new discipline and studied Buddhist meditation, which brought him a new understanding of the deep relationship between sexuality and faith, body and spirit. Changed in profound ways, Johnson ultimately turned back to his childhood faith, now inflected with the accumulated wisdom of his journey.
Johnson interweaves memoir, the personal and often shocking stories of Buddhist and Christian monks, and a revealing history of the contemplative life in the West. He offers lay Christians an understanding of the origins and history of their contemplative traditions and provides the groundwork needed to challenge orthodox understandings of spirituality. No matter their backgrounds, readers will find Keeping Faith a work of great power and immediacy.
About the Author
FENTON JOHNSON is the author of two award-winning novels, Crossing the River and Scissors, Paper, Rock, and a memoir, Geography of the Heart. A contributor to Harper's Magazine and the New York Times Magazine, he currently teaches at the University of Arizona.
Praise For Keeping Faith…
"Richly allusive, impressively lucid, and unflinchingly honest; Johnson speaks as eloquently to the heart as to the head." Kirkus Reviews

"KEEPING FAITH is a tour de force -- a moving memoir of an American boyhood as well as a deftly written exploration of Christian and Buddhist monasticism. Fenton Johnson's urgent inquiry traces religious impulse to its source in the very springs of human desire -- where he finds much longing, much trouble, and enduring beauty." --Patricia Hampl, author of A ROMANTIC EDUCATION

"Johnson's account of his passage from skepticism to faith is exceedingly refreshing and pure in its honesty..." Publishers Weekly