The Letters of J.R.R. Tolkien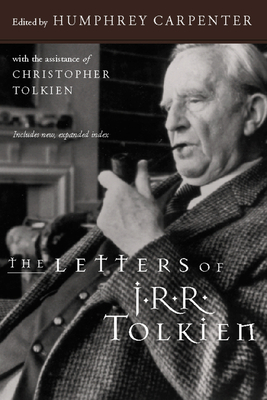 The Letters of J.R.R. Tolkien
Houghton Mifflin, Paperback, 9780618056996, 480pp.
Publication Date: June 6, 2000
* Individual store prices may vary.
Buy Now
or
Shop Local
Enter your zip code below to purchase from an indie close to you.
Description
'...If you wanted to go on from the end of The Hobbit I think the ring would be your inevitable choice as the link. If then you wanted a large tale, the Ring would at once acquire a capital letter; and the Dark Lord would immediately appear. As he did, unasked, on the hearth at Bag End as soon as I came to that point. So the essential Quest started at once. But I met a lot of things along the way that astonished me. Tom Bombadil I knew already; but I had never been to Bree. Strider sitting in the corner of the inn was a shock, and I had no more idea who he was than Frodo did. The Mines of Moria had been a mere name; and of Lothlorien no word had reached my mortal ears till I came there.' -- J.R.R. Tolkien to W.H. Auden, June 7, 1955

J.R.R. Tolkien, cherished author of The Hobbit, The Lord of the Rings, and The Silmarillion, was one of the twentieth century's most prolific letter writers. Over the years he wrote a mass of letters -- to his publishers, his family, to friends, and to fans of his books -- which record the history and composition of his works and his reaction to subsequent events.

By turns thoughtful, impish, scholarly, impassioned, playful, vigorous, and gentle, Tolkien poured his heart and mind into a great stream of correspondence to intimate friends and unknown admirers all over the world. From this collection one sees a mind of immense complexity and many layers -- artistic, religious, charmingly eccentric, sentimental, and ultimately brilliant.

Now newly expanded with a detailed index, this collection provides an invaluable record that sheds much light on Tolkien's creative genius, his thoughts and feelings about his own work, and the evolution of his grand design for the creation of a whole new world -- Middle-earth.
About the Author
Humphrey Carpenter, the author of THE BRIDESHEAD GENERATION and THE INKLINGS, among other books, was given unrestricted access to all of Tolkien's papers for his biography of Tolkien, J.R.R. TOLKIEN: A BIOGRAPHY.

CHRISTOPHER TOLKIEN is the third son of J.R.R. Tolkien. Appointed by Tolkien to be his literary executor, he has devoted himself to the editing and publication of unpublished writings, notably The Silmarillion, Unfinished Tales, and The History of Middle-earth.

J. R. R. Tolkien (1892 1973), beloved throughout the world as the creator of "The Hobbit", "The Lord of the Rings", and other tales of Middle-earth, was a professor of Anglo-Saxon at Oxford, a fellow of Pembroke College, and a fellow of Merton College until his retirement in 1959. His chief interest was the linguistic aspects of the early English written tradition, but even as he studied these classics he was creating a set of his own. His books have been translated into more than fifty languages and have sold many millions of copies worldwide.