Aquavit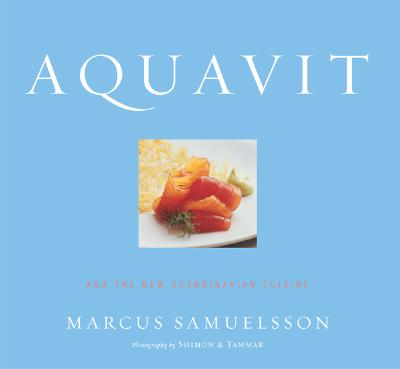 Aquavit
And the New Scandinavian Cuisine
Houghton Mifflin Harcourt, Hardcover, 9780618109418, 312pp.
Publication Date: October 1, 2003
* Individual store prices may vary.
Not Currently Available for Direct Purchase
or
Shop Local
Enter your zip code below to purchase from an indie close to you.
Description
In this long-awaited book, Marcus Samuelsson introduces the simple techniques and exciting combinations that have won him worldwide acclaim and placed Scandinavian cooking at the forefront of the culinary scene. Whether it's a freshly interpreted Swedish classic or a dramatically original creation, each one of the dishes has been flawlessly recreated for the home cook. Every recipe has a masterful touch that makes it strikingly new: the contrasting temperatures of Warm Beef Carpaccio in Mushroom Tea, the pleasing mix of creamy and crunchy textures in Radicchio, Bibb, and Blue Cheese Salad, the cornflake coating on a delightful rendition of Marcus's favorite "junk food," Crispy Potatoes.
In "The Raw and the Cured," Marcus presents the cornerstone dishes of the Scandinavian repertoire, from a traditional Gravlax with Mustard Sauce (which gets just the right balance from a little coffee) to the internationally inspired Pickled Herring Sushi-Style. The clean, precise flavors of this food are reminiscent of Japanese cuisine but draw upon accessible Western ingredients.
Marcus shows how to prepare foolproof dinners for festive occasions: Crispy Duck with Glogg Sauce, Herb-Roasted Rack of Lamb, and Prune-Stuffed Pork Roast. Step by step, offering many suggestions for substitutions and shortcuts, he guides you through the signature dishes that have made Aquavit famous, like Dill-Crusted Arctic Char with Pinot Noir Sauce, Pan-Roasted Venison Chops with Fruit and Berry Chutney, and Fois Gras "Ganache." But you'll also find dozens of homey, comforting dishes that Marcus learned from his grandmother, like Swedish Roast Chicken with Spiced Apple Rice, Chilled Potato-Chive Soup, Blueberry Bread, Corn Mashed Potatoes, ethereal Swedish Meatballs with Quick Pickled Cucumbers, and Swedish Pancakes with Lingonberry Whipped Cream.
From simplest-ever snacks like Sweet and Salty Pine Nuts and Barbecued Boneless Ribs, to satisfying sandwiches like Gravlax Club, to vibrant jams and salsas and homemade flavored aquavits, Marcus Samuelsson's best recipes are here. Lavishly photographed, Aquavit and the New Scandinavian Cuisine provides all the inspiration and know-how needed for stunning success in the kitchen.
About the Author
Marcus Samuelsson is the executive chef and co-owner of Restaurant Aquavit, located in New York City and Minneapolis. Under his direction, Aquavit has repeatedly received the New York Times's coveted three-star rating. Samuelsson was named "Rising Star Chef" by the James Beard Foundation and has been featured in hundreds of publications around the world.
Praise For Aquavit…
"Truly masterful." Publishers Weekly, Starred

"Beautifully produced book...with gorgeous photos and an attractive layout..." -Library Journal Library Journal

"The public face of new Scandinavian cuisine." The New York Times

"Reveals the eclectic wellsprings of (Samuelsson's) highly personal cuisine. . . Beautifully photographed." New York Magazine

"(Samuelsson's) recipes reflect his global view." Time Magazine

"Many new books showcase the chef's art. This can be done gorgeously, as in AQUAVIT..."-New York Times Book Review New York Times Book Review Notable Book

"Samuelsson's 5-pound book worth it's weight....'Aquavit,' the book, based on Aquavit the restaurant is eminently accessible....He has clearly made an effort to write for real people....in addition to innovative, delectable dishes, Samuelsson's book includes stunning photographs that seem to distill the essence of the flavors represented, inviting the viewer to try them" -The Denver Post

The Denver Post

"A beautiful volume...AQUAVIT AND THE NEW SCANDINAVIAN CUISINE, gives the cast of herring, salmon, meatballs and dill an edgy designer waredrobe...Slow-cooked squab...is snap to prepare. The recipes are surprisingly easy to make." -The New York Times 12/10/03 The New York Times

"Coffee table worthy yet irresistibly friendly, AQUAVIT is bursting with artisitic dinner-party food." -Bon Appetit April