The Annotated Hobbit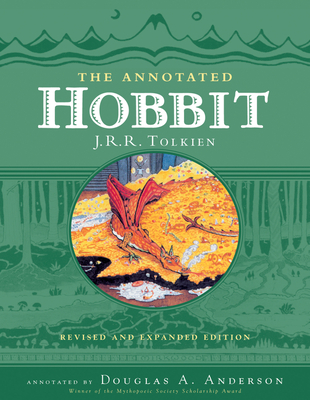 The Annotated Hobbit
Houghton Mifflin, Hardcover, 9780618134700, 416pp.
Publication Date: September 2002
* Individual store prices may vary.
Buy Now
or
Shop Local
Enter your zip code below to purchase from an indie close to you.
Description
For readers throughout the world, The Hobbit serves as an introduction to the enchanting world of Middle-earth, home of elves, wizards, dwarves, goblins, dragons, orcs and a host of other creatures depicted in The Lord of the Rings and The Silmarillion -- tales that sprang from the mind of the most beloved author of all time, J.R.R. Tolkien.
Newly expanded and completely redesigned, Douglas A. Anderson's The Annotated Hobbit is the definitive explication of the sources, characters, places, and things of J.R.R. Tolkien's timeless classic. Integrated with Anderson's notes and placed alongside the fully restored and corrected text of the original story are more than 150 illustrations showing visual interpretations of The Hobbit specific to many of the cultures that have come to know and love Tolkien's Middle-earth. Tolkien's original line drawings, maps and color paintings are also included, making this the most lavishly informative edition of The Hobbit available.
The Annotated Hobbit shows how Tolkien worked as a writer, what his influences and interests were, and how these relate to the invented world of Middle-earth. It gives a valuable overview of Tolkien's life and the publishing history of The Hobbit, and explains how every feature of The Hobbit fits within the rest of Tolkien's invented world. Here we learn how Gollum's character was revised to accommodate the true nature of the One Ring, and we can read the full text of The Quest of Erebor, Gandalf's explanation of how he came to send Bilbo Baggins on his journey with the dwarves. Anderson also makes meaningful and often surprising connections to our own world and literary history -- from Beowulf to The Marvellous Land of Snergs, from the Brothers Grimm to C. S. Lewis.
About the Author
J. R. R. Tolkien (1892 1973), beloved throughout the world as the creator of "The Hobbit", "The Lord of the Rings", and other tales of Middle-earth, was a professor of Anglo-Saxon at Oxford, a fellow of Pembroke College, and a fellow of Merton College until his retirement in 1959. His chief interest was the linguistic aspects of the early English written tradition, but even as he studied these classics he was creating a set of his own. His books have been translated into more than fifty languages and have sold many millions of copies worldwide.

Douglas A. Anderson, a leading American Tolkien scholar, is acknowledged as the worldwide expert on the textual history of The Hobbit. He has contributed the text notes for all Houghton Mifflin Tolkien editions for more than a decade. He is also a bookseller, formerly in Ithaca, New York, now in northern Indiana.
Praise For The Annotated Hobbit…
Not only fascinating, but useful. It makes of The Hobbit a kind of Tolkien handbook.
The Washington Post

Hobbit fans will treasure it.
The Denver Post