The Secrets of Baking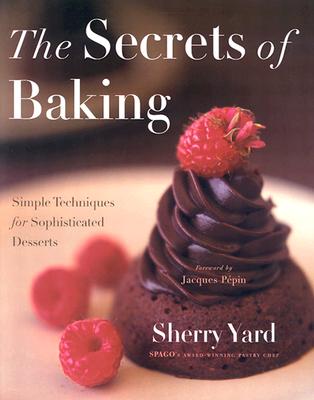 The Secrets of Baking
Simple Techniques for Sophisticated Desserts
Houghton Mifflin Harcourt, Hardcover, 9780618138920, 416pp.
Publication Date: November 1, 2003
* Individual store prices may vary.
Not Currently Available for Direct Purchase
or
Shop Local
Enter your zip code below to purchase from an indie close to you.
Description
The Secrets of Baking is a comprehensive primer that guides the cook through the world of baked goods and other desserts, from time-honored classics of the French patisserie to the inspired and fanciful creations that made Spago the famous restaurant it is today. At the same time, it advances a radically new understanding of these recipes, one that will give the baker greater flexibility and confidence in the kitchen.
Instead of grouping desserts into traditional categories (pies, cakes, cookies), Sherry Yard arranges them around crucial master recipes. Starting with these recipes -- simple, basic guidelines for making caramel, chocolate sauce, lemon curd, pound cake, and brioche, to name just a few -- Yard shows the cook how to create dozens of variations. Knowing how ingredients interact opens the door to a multitude of baking possibilities. For example, cream puff dough forms the foundation for eclairs, profiteroles, and the caramel-coated tower the French call croquembouche, but understanding how and why it behaves the way it does allows the cook to create deep-fried beignets, mascarpone-filled cannolis, or simmering-hot dumplings.
This authoritative, friendly bake-shop bible contains fascinating mini-lessons on food science, illuminating bits of baking history, and time-saving tips. Newcomers to the world of baking will feel at ease with such simple, homey desserts as Banana Bread and Mississippi Mud Pie, and elaborate show-stoppers like Chocolate Brioche Sandwich with Espresso Gelato and Blackberry-Lime-Filled Doughnuts with Blackberry Sorbet and Berries will transform amateur bakers into expert pastry chefs.
About the Author
Jacques Pépin has written twenty-five cookbooks, including the best-selling Jacques Pépin Fast Food My Way, More Fast Food My Way, and his memoir, The Apprentice. He has also starred in numerous acclaimed cooking series on public television and is a contributing editor to Food & Wine. He has won multiple James Beard Awards, several IACP Cookbook Awards, and the Legion of Honor, France's highest distinction.
Praise For The Secrets of Baking…
"Yard...has an easy didactic style that comes across in her spunky text and straightforward recipes. A wide range of recipes makes the book accessible to all level, allowing novices to become comfortable with pastry basics and professional to combine multiple recipes to create more complicated confections." Publishers Weekly

Publishers Weekly

"A sensational sweet treat . . . A practical paean to premier pastries." Bookpage

"Yard gives us the lowdown on how to make restaurant-glamorous desserts at home. What a treat to be let in on the secrets of one of L.A.'s best pastry chefs." Los Angeles Times

"Immensly appealing...Detailed and clearly written...Yard's book is approachable enough for the novice and even challenging enough for the experienced baker." Library Journal Starred

"likely to be as influential for the next generation of pastry chefs as that of her fellow Angelena Nancy Silverton."-New York Times Book Review

New York Times Book Review Notable Book

"The tone of Sherry Yard's book makes her feel like a new best friend who just happens to be the pastry chef at the most famous restaurant in tinsletown.....she takes the well-codified genre of desserts and sets it down in a new way, using recipes and techniques as building blocks....I'm not a pastry chef, but I find this volume almost empowering" -- Gourmet Gourmet