The Best American Science and Nature Writing 2003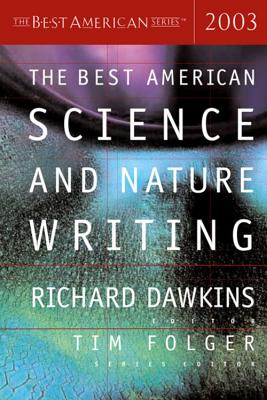 The Best American Science and Nature Writing 2003
Mariner Books, Paperback, 9780618178926, 352pp.
Publication Date: October 2003
* Individual store prices may vary.
Buy Now
or
Shop Local
Enter your zip code below to purchase from an indie close to you.
Description
Since its inception in 1915, the Best American series has become the premier annual showcase for the country's finest short fiction and nonfiction. For each volume, a series editor reads pieces from hundred of periodicals, then selects between fifty and a hundred outstanding works. That selection is pared down to the twenty or so very best pieces by a guest editor who is widely recognized as a leading writer in his or her field. This unique system has helped make the Best American series the most respected -- and most popular -- of its kind.
The Best American Science and Nature Writing 2003, edited by Richard Dawkins, is another "eloquent, accessible, and even illuminating" collection (Publishers Weekly). Here are the best and brightest writers on science and nature, writing on such wide-ranging subjects as astronomy's new stars, archaeology, the Bible, "terminal" ice, and memory faults.

Natalie Angier Timothy Ferris Ian Frazier Elizabeth F. Loftus Steven Pinker Oliver Sacks Steven Weinberg Edward O. Wilson
About the Author
Richard Dawkins was first catapulted to fame with his iconic work The Selfish Gene, which he followed with a string of bestselling books. Part one of his autobiography, An Appetite for Wonder, was published in 2013.
Dawkins is a Fellow of both the Royal Society and the Royal Society of Literature. He is the recipient of numerous honours and awards, including the Royal Society of Literature Award (1987), the Michael Faraday Award of the Royal Society (1990), the International Cosmos Prize for Achievement in Human Science (1997), the Kistler Prize (2001), the Shakespeare Prize (2005), the Lewis Thomas Prize for Writing about Science (2006), the Galaxy British Book Awards Author of the Year Award (2007), the Deschner Prize (2007) and the Nierenberg Prize for Science in the Public Interest (2009). He retired from his position as Charles Simonyi Professor for the Public Understanding of Science at Oxford University in 2008 and remains a Fellow of New College.
In 2012, scientists studying fish in Sri Lanka created Dawkinsia as a new genus name, in recognition of his contribution to the public understanding of evolutionary science. In the same year, Richard Dawkins appeared in the BBC Four television series Beautiful Minds, revealing how he came to write The Selfish Gene and speaking about some of the events covered in this autobiography.
In 2013, Dawkins was voted the world's top thinker in Prospect magazine's poll of over 10,000 readers from over 100 countries.
TIM FOLGER is a contributing editor at "Discover" and writes about science for several magazines.