The Best American Recipes 2002-2003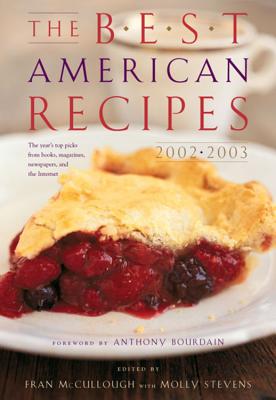 The Best American Recipes 2002-2003
Houghton Mifflin Harcourt, Hardcover, 9780618191376, 360pp.
Publication Date: October 1, 2002
* Individual store prices may vary.
Shop Local
Enter your zip code below to find indies closest to you.
Description
What is a best American recipe? It's simple but sophisticated.
It tastes exceptional.
It's one you want to make again and are dying to share with your friends.
It introduces a surprisingly easy technique or gives you a new way to use a favorite ingredient.
It produces the best possible version of a dish.

For this edition, Fran McCullough, one of the nation's most respected cookbook editors, and Molly Stevens, a cookbook author and contributing editor for Fine Cooking, searched through hundreds of sources and then selected the very best -- 150 recipes in all.

You'll find recipes from the biggest names in food, such as the celebrity chefs Mario Batali and Bobby Flay; from esteemed cookbook authors, including Marion Cunningham and Deborah Madison; and from renowned food journalists, like Gourmet's Ruth Reichl and the New York Times's Amanda Hesser. You'll also get superlative recipes from home cooks, such as a scene-stealing side dish and an heirloom holiday dessert.

The Best American Recipes includes notes on the most popular ingredients, time-saving techniques, and the most useful kitchen tools. With crowd-pleasing recipes like Party Cheese Crackers, such weeknight suppers as Simple Salmon, and special-occasion dishes including Spice-Rubbed Turkey and Chocolate Truffle Cake, The Best American Recipes equips you with everything you need to be the most confident cook on the block.
About the Author
Fran McCullough has been an editor at Harper and Row, Dial Press, and Bantam, where she discovered such major cookbook authors as Deborah Madison, Diana Kennedy, Paula Wolfert, Martha Rose Shulman, and Colman Andrews. She is a coauthor of Great Food Without Fuss, which won a James Beard Award, and the author of the best-selling Low-Carb Cookbook, The Good Fat Cookbook, and Living Low-Carb.