The Gourmet Cookbook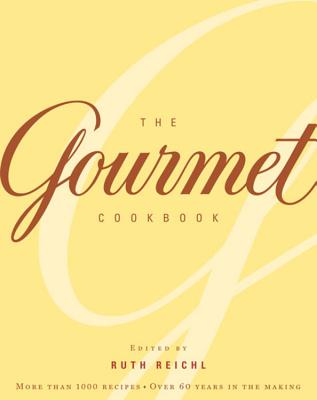 The Gourmet Cookbook
More than 1000 recipes
Houghton Mifflin Harcourt, Hardcover, 9780618374083, 1056pp.
Publication Date: September 1, 2004
* Individual store prices may vary.
Buy at Local Store
Enter your zip code below to purchase from an indie close to you.
or
Not Currently Available for Direct Purchase
Description
For the past six decades, Gourmet magazine has shaped the tastes of America, publishing the best work of the foremost names in the world of food. To create this landmark cookbook, editor in chief and celebrated authority Ruth Reichl and her staff sifted through more than 50,000 recipes. Many were developed exclusively for Gourmet's test kitchens. Others came from renowned food writers and chefs and from the magazine's far-flung readers. Then the editors embarked on an extraordinary series of cook-offs to find the most unforgettable dishes, testing and retesting each one to ensure impeccable results.
This collection, the only one of its kind, spans a vast range of cultures and cuisines. With it, you can go back to the time when Beef Wellington ruled the table or prepare something as contemporary as Crispy Artichoke "Flowers" with Salsa Verde. And whether you're cooking a simple supper for two or throwing a cocktail party for fifty, you'll make every dish with more flavor and more flair using The Gourmet Cookbook. It includes
* 102 hors d'oeuvres, dips, chips, pates, and first courses * exciting vegetable dishes -- more than 120 in all -- using everything from artichokes to yuca * versatile recipes for every available kind of seafood, with many suggested substitutes * hundreds of simple but exceptional dinners * festive dishes for every occasion, including a perfect roast turkey with stuffings, the ultimate standing rib roast, and even a gorgeous (but easy) wedding cake * definitive versions of all the classics, from Chicken Kiev to Crcme Brulee and from Bouillabaisse to Pad Thai * more than 50 pastas and risottos, from quick everyday meals to party dishes * scores of soups, salads, breakfast dishes, and sandwiches, including the editors' all-time favorite pizza * a wealth of sauces and salsas, to transform ordinary meals into spectacular ones * more than 300 desserts: cookies, pies, tarts, pastries, buckles, crumbles, ice creams, puddings, mousses, and cakes galore, including cheesecakes and the nine best chocolate cake recipes Gourmet has ever published
With engaging introductions to each chapter by Ruth Reichl, entertaining headnotes, indispensable information about ingredients and techniques, hundreds of tips from Gourmet's test kitchens, and an extensive glossary, The Gourmet Cookbook is the essential kitchen companion for anyone who wants one-of-a-kind recipes and spectacular results every time.
About the Author
Ruth Reichl joined Gourmet as Editor in Chief in April 1999. She came to the magazine from The New York Times, where she had been the restaurant critic since 1993. As chef and co-owner of The Swallow Restaurant from 1974 to 1977, she played a part in the culinary revolution that took place in Berkeley, California. In the years that followed, she served as restaurant critic for New West and California magazines. In 1984, she became restaurant critic of the Los Angeles Times, where she was also named food editor. Reichl began writing about food in 1972, when she published a book called Mmmmm: A Feastiary. Since then, she has authored the critically acclaimed, best-selling memoirs, Tender at the Bone and Comfort Me With Apples. She is the editor of The Modern Library Cooking Series, released in March 2001. She has also written the introductions for Nancy Silverton's Breads from the La Brea Bakery: Recipes for the Connoisseur (1996) and Measure of Her Powers: An M.F.K. Fisher Reader (2000). She is currently working on Remembrance of Things Paris, The Gourmet Cookbook, and a third memoir. Reichl has been honored with three James Beard Awards (two for restaurant criticism, in 1996 and 1998, and one for journalism, in 1994) and with numerous awards from the Association of American Food Journalists. She holds a B.A. and an M.A. in the History of Art from the University of Michigan, and lives in New York City with her husband, Michael Singer, a television news producer, and their son.
Praise For The Gourmet Cookbook…
"Very cook-friendly... An exhaustive record of the... explosion of America's food culture... A fascinating and tasty cultural artifact." The New York Times

"This is the sort of cookbook you want by your side whether you're attempting cucumber sandwiches or coq au vin" --Lisa McLaughlin Time Magazine

"A classic... encyclopedic yet enticing." Time Magazine

"Brings American cooking into the 21st century." Boston Globe

"New Gourmet tome aims to sizzle its rivals... the appetizing recipes will send you scurrying into the kitchen." Boston Herald

"Has it all... Reichl et al. have done an admirable job." The San Francisco Chronicle

"Ideas for every course, occasion, and budget." USA Today

"You'll be astonished." U.S. News & World Report

"Not your everyday white bread cookbook." New York Post

"A landmark-and a treasure trove." Napa Valley Register

"the end-all recipe encylcopedia." Entertainment Weekly

"If you could dream up the perfect cookbook, it might look something like this: easy recipes for days when you're spent and just want something quick and filling; pull-out-all-the-stops recipes for when you want to spend an entire week working on Saturday night's meal; instructions for tasks like cleaning mussels and making pastry dough; introductions and mini-essays explaining recipes' origins and the techniques they involve; and an overall panache and intelligence." Publishers Weekly, Starred

"This book is good both as a reference material for the novice or experienced home cook." Newark Star-Ledger