Turing's Delirium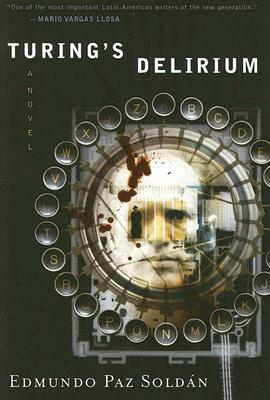 Turing's Delirium
Houghton Mifflin, Hardcover, 9780618541393, 291pp.
Publication Date: July 2006
* Individual store prices may vary.
Shop Local
Enter your zip code below to find indies closest to you.
Description
Set against the backdrop of the globalization crisis, Edmundo Paz Soldán's award-winning literary thriller is a modern chapter in the age-old fight between oppressed and opressor.

The town of Río Fugitivo is on the verge of a social revolution -- not a revolution of strikes and street riots but a war waged electronically, in which computer viruses are the weapons and hackers the revolutionaries.

In this war of information, the lives of a variety of characters become entangled: Kandisky, the mythic leader of a group of hackers fighting the government and transnational companies; Albert, the founder of the Black Chamber, a state security firm charged with deciphering the secret codes used in the information war; and Miguel Sáenz, the Black Chamber's most famous codebreaker, who begins to suspect that his work is not as innocent as he once supposed. All converge to create an edgy, fast-paced story about personal responsibility and complicity in a world defined by the ever-increasing gulfs between the global and the local, government and society, the virtual and the real.
About the Author
Edmundo Paz Soldan is the author of six novels and two short story collections. He was awarded the 2002 Bolivian National Book Award for Turing s Delirium and a 2006 Guggenheim Fellowship. He has won the National Book Award in Bolivia, the prestigious Juan Rulfo Award, and was a finalist for the Romulo Gallegos Award. He is an associate professor at Cornell University. One of the few McOndo writers who live in the United States, he is frequently called upon as the movement s spokesperson by the American media.

Lisa Carter is the author of Carolina Reckoning, Beneath a Navajo Moon, Under a Turquoise Sky, and Aloha Rose. She and her husband have two daughters and make their home in Raleigh, North Carolina. A member of ACFW, RWA, and Sisters in Crime, when she isn t writing, Lisa enjoys traveling, quilting, and researching her next romantic adventure. Visit her online at LisaCarterAuthor.com.