42 Miles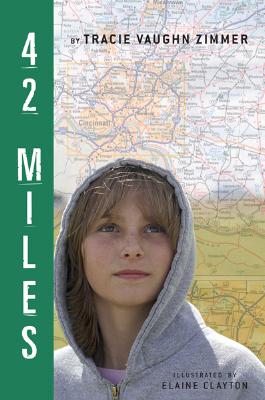 42 Miles
Clarion Books, Hardcover, 9780618618675, 73pp.
Publication Date: March 18, 2008
* Individual store prices may vary.
Buy at Local Store
Enter your zip code below to purchase from an indie close to you.
or
Not Currently Available for Direct Purchase
Description
JoEllen's parents divorced when she was very young, so she was used to splitting her time between them, shuttling four blocks from one Cincinnati apartment to another. But when her dad moved to the old family farm last year, her life was suddenly divided. Now on weekdays she's a city girl, called Ellen, who hangs out with her friends, plays the sax, and loves old movies. And on weekends she's a country girl, nicknamed Joey, who rides horseback with her cousin, Hayden, goes fishing, and listens to bluegrass. So where do her loyalties lie? Who is the real JoEllen? Linked free-verse poems, illustrated with a quirky array of found objects and mementos, create the vivid, realistic portrait of a young girl at a defining moment in her life.
Praise For 42 Miles…
"Caught between her divorced parents' rural and city worlds, JoEllen approaches her 13th birthday with a growing definition and assurance of her personal identity. Half of her name is from her father, Joseph, who calls her Joey; the other half is from her mother, Eleanor, who calls her Ellen. "Now my days-/divided between them-/are as different as my names." The girl's life, however, at each end of the 42 miles that separate her parents, is rich and complicated, and the author subtly develops JoEllen's awareness: "The apple trees/share secrets./The ducks endlessly discuss/the quality of rain" ("Farm Nights"). "An ambulance wailing/cars cussing/cats calling/dogs delivering the news" ("Cincinnati Nights"). The poems meld together into a smooth story that ends with this invitation: "My favorite poems/hold a wooden spoon of words/and whisper:/Taste" ("The Poems I Like Best"). Mixed-media collage illustrations complement the subject of each poem and reinforce the complicated and changing moods of the story. Young people will appreciate this easy-to-read, empowering story."--School Library Journal
 
"Living separate lives to please her divorced parents, a young girl struggles to define herself. JoEllen's mother lives in a city apartment while her father lives 42 miles away in a farmhouse. JoEllen (named for both parents) admits "my days . . . are as different as my names." She spends schooldays with Mom, who calls her "Ellen," and weekends with Dad, who calls her "Joey." JoEllen and Mom love takeout. JoEllen and Dad invent their own recipes. In the city, JoEllen plays the sax, watches old movies, wears vintage clothing and works at a secondhand shop with her best friends. At the farm, she trail rides with her cousin, listens to bluegrass, wears work boots and slops out the stable. Split "like an apple's pale heart / on either side of the blade," JoEllen decides her two lives need to meet-just in time for her 13th birthday. Embellished with Clayton's scrapbook-like black-and-white illustrations, the free-verse text traces the hopes and fears of a thoughtful teen who optimistically merges the best of her two lives into an even better "new me."--Kirkus Reviews
 
"The forty-two miles that separate JoEllen's mother's house from her father's house also divide JoEllen into a city girl named Ellen, with friends Annie and Tamika, and a country girl named Joey, who hangs out in the orchard with her cousin Hayden.  In each place, she has bits of herself that she loves and bits that she could do without, but what she is mostly tired of is trying to maintain the split to make each parent happy and comfortable.  An assignment to write an autobiography, the finding of a memory box that proved her parents really were together and happy once, an encounter with a bully, and her thirteenth birthday converge to force a new JoEllen to surface out of her two halves.  JoEllen's empowerment seems so sudden an all-inclusive as to require a full orchestral soundtrack, but it's definitely the kind of change puberty inspires in some girls, and many readers will thus empathize with her assertion of a unified but still multifaceted self.  The real star here, however, is the form: JoEllen's split identity and her transformation emerge in image-rich, thoughtful, and often arresting poems that convey the separate lives she leads and the pain that causes, and in collage art that aptly portrays her patched-together sense of who she is.  JoEllen's poetry paints a moving, triumphant portrait of the vicissitudes of contemporary coming of age."--Bulletin of the Center for Children's Books