The Mosquito Coast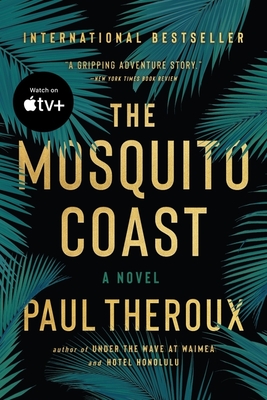 The Mosquito Coast
Mariner Books, Paperback, 9780618658961, 374pp.
Publication Date: June 1, 2006
* Individual store prices may vary.
Buy at Local Store
Enter your zip code below to purchase from an indie close to you.
or
Buy Here
Description
In a breathtaking adventure story, the paranoid and brilliant inventor Allie Fox takes his family to live in the Honduran jungle, determined to build a civilization better than the one they've left. Fleeing from an America he sees as mired in materialism and conformity, he hopes to rediscover a purer life. But his utopian experiment takes a dark turn when his obsessions lead the family toward unimaginable danger.
About the Author
PAUL THEROUXis the author of many highly acclaimed books. His novels include The Lower River and The Mosquito Coast, and his renowned travel books include Ghost Train to the Eastern Star and Dark Star Safari. He lives in Hawaii and Cape Cod.
The rhymes in this book come from conversations David Frampton has had with children. He crafted each line from the questions and comments they had about animals. It's true! A child asked him if a rhino's went "beep-beep." And so, the "My" in the title does not refer to David himself, but to the individual children who inspired each of the rhymes.
In his own words...
This is me with all the wood that I carved to make the woodcuts for this book. What is a woodcut? It is a picture that is cut into a piece of wood, then covered with paint and squeezed against a piece of paper. Each picture in this book is made from four separate woodcuts, one for each color. Did you ever step in a puddle and then leave footprints as you walked along? Well, making woodcuts is a bit like that and just as much fun.
New Hampshire is where I have been living and working on woodcuts for the past twenty-five years. We (my wife and two children) love our small town with its quiet ways and friendly people, Our house is near the town center, where you will find one store, a firehouse, and the town library that used to be a one-room schoolhouse. To complete the picture, add a moose, a bear, and a million trees. I have been making woodcuts for children's books for many years, but this is the first one that I have written and illustrated. our kids grew up without a television. No TV, but there were so many wonderful books. It was by reading to them night after night that I learned about the words and sounds and rhythms that kids love to hear. These are the sounds in my own stories--The Whole Night Through, as well as several new ones that I am currently working on.